Should You Refinance Your Mortgage – Again?
Blog posted On September 01, 2020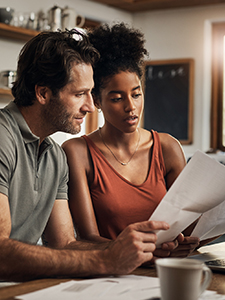 Average mortgage rates continue to plunge to historic lows and if you have a mortgage, you're probably thinking about a refinance. With the delay of the proposed Adverse Market Refinance Fee, many homeowners are now rushing to refinance.
While Refinance Early, Refinance Often isn't the proverb you should abide by, there are cases where it makes sense to refinance your home loan multiple times. If you purchased or refinanced your home as recently as the past year, you may still qualify for a lower mortgage rate in today's low interest rate environment. Keep in mind, a refinance is a new loan origination and with that will come closing costs and other fees.
If you're thinking about refinancing your home loan, here are some questions you need to answer first.
How long do you have to wait to refinance your mortgage?
Technically, there is no limit to the number of times you're allowed to refinance a home loan. Most lenders have a "seasoning" requirement for conventional loans, which means you have to wait at least six months after the closing of the original loan to refinance. You may be able to find a lender willing to do the refinance earlier, but if you had a cash-out refinance the six-month waiting period likely cannot be skipped.
For government-sponsored loans like the FHA Loan and the VA Loan, your lender has to abide by agency requirements. For an FHA streamline refinance you have to wait 210 days (about seven months) from the closing date of the original mortgage and six months from the due date of the first payment to refinance. If you are doing an FHA cash-out refinance, you only have to wait for the six-month payment requirement. With a VA Interest Rate Reduction Refinance Loan (IRRRL) you have the option to wait either 210 days from the date of the first mortgage payment or until you've reached the date of the sixth mortgage payment, whichever comes later. For a cash-out refinance, you have to wait at least 210 days from the closing date of the original mortgage.
How long do you plan on living in this home?
Whether or not you should refinance your mortgage depends largely on your long-term plans. Even refinancing a loan one time, may not make sense financially if you plan on moving within a few years. Before you refinance you need to look at your loan balance, your current rate of interest, your expected rate of interest, and the closing costs associated with the loan. Sometimes it may take 10 to 15 years to recoup the costs of a refinance – and if you refinance twice? It will add up.
Why do I want to refinance again?
There are other reasons to refinance besides lowering your mortgage rate. If you're simply watching interest rates, you may be missing the larger picture. Even as interest rates decline, financial professionals generally recommend waiting until average mortgage rates are a minimum of 1 percentage point lower than when you originated your loan.
Besides lowering interest rates or changing loan terms, these are most common reasons homeowners refinance their mortgages:
Their credit score has improved significantly – like moving up from fair to good or good to excellent, not just jumping 10 or 15 points. Credit repair can take time, and if your credit score is much higher than when you originally financed your home, then you might qualify for a lower rate regardless of the interest rate environment.
They want to take cash out – one of the advantages of homeownership is building home equity. When you need to use your home equity for a home improvement project or other expense, you can withdraw it with a cash-out refinance. Financial professionals recommend having at least a 20% equity cushion before doing a cash-out refinance. If you've recently taken cash out and have yet to rebuild your equity, you should wait before doing another cash-out refinance.
They are having trouble affording mortgage payments – if a refinance can lower your monthly mortgage payment and you are struggling to pay your mortgage, a refinance may be better than requesting mortgage forbearance. Keep in mind, a refinance is not free and you will have to pay closing costs, but if a lower mortgage payment means you can afford to stay in your home, you should talk to a mortgage lender.
If you're considering a mortgage refinance, or another mortgage refinance, talk to a loan officer first. There are times when refinancing more than once makes sense, or there could be a better way to achieve your goal.
Sources: BankRate