How Home Buyers Have Adapted to Socially Distant Home Sellers
Blog posted On April 14, 2020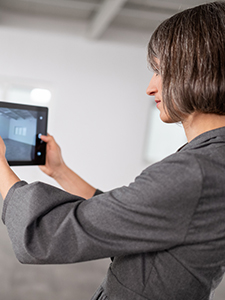 With states and counties adapting to social distancing and shelter-in-place mandates to stop the spread of coronavirus or Covid-19, the way prospective home buyers are touring homes is changing. As an essential service, banks and lenders are still fully operational helping people buy new homes and refinance existing home loans. Realtors and real estate agents are adjusting to temporary changes by using technology to create 3D home listings, conduct virtual tours, and give prospective home buyers all the information they need to purchase their homes.
From February to March, home listing site, Zillow, saw a 191% increase in the creation of 3D home tours. 3D home tours are free to add to any Zillow or Trulia listing and can be created through the Zillow mobile app. Even before Covid-19 restrictions, listings that included a 3D home tour were saved 50% more and sold on average 10% faster than listings featuring just static images.
If you're shopping for a home and you'd still like the guidance of your Realtor or real estate agent during the tour, you can request a live video tour. Real estate brokerage, Redfin, reported a 494% increase in requests for agent led video tours in the first few weeks of March. When your agent leads the tour, you have a chance to ask questions about specific features of the home and see how things currently look. It's also an opportunity for agents to point things out that you may not notice yourself through a 3D home tour.
If you'd still like to tour the home yourself, but you need to observe social distancing procedures, companies like Rently are making it easy to do that. Rently designs digital lockboxes where a prospective renter or buyer preregisters with their credit card online and is able to access a key to a home by providing a valid ID. Once the self-tour is complete, the lockbox will reset for the next person. In March 2020, Rently expects to facilitate 197,964 tours, up 30% from last year.
Realtors and real estate agents are adjusting as needed to local, state, and federal mandates as they become available. It's best to contact your local agent to get an update on how they plan to provide virtual tours during these restrictions. We are here to answer any questions you may have about the mortgage process and how we are adapting to comply with Covid-19 prevention guidance.