Predictions for the Fall Housing Market
Blog posted On September 08, 2020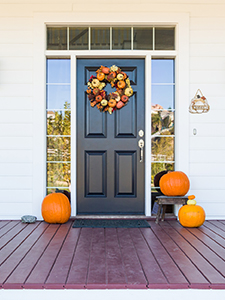 Following an unprecedented Spring and Summer due to the coronavirus pandemic, the Fall housing market is going to look different this year. Historically, buyers tend to buy and sell homes more frequently in the Spring and Summer when it's more convenient for children to change schools, warmer weather is more favorable for home tours and travel, and home builders are busy. After an economic standstill in March and April, and a slow reopening across the country, many housing professionals are expecting an exceptionally busy Fall. Mortgage rates are historically low, builders have been busy, and buyers are returning to the housing market.
Here's what you can expect if you're buying a home this fall.
Remote Learning and Working will Influence Home Buyers
Traditionally, parents may plan their family's move around the school year, so their children won't have to switch schools during the school year. It also may be less disruptive for parents to move during the summer, when work is slower, and coworkers are taking vacations. With remote learning and working continuing in many places around the country, these school and work restrictions may not be as much of an influence as past years. If children are in virtual school, moving to a new home or school district may be less disruptive than a physical change in schools. For parents working remotely, proximity to the office may no longer be as a critical factor in choosing a new home.
Home Builders will Stay Busy
Before the coronavirus pandemic led to massive shutdowns and closures, the housing market was struggling with not enough homes for sale. Homeowners are occupying their homes longer and buyers are more dependent on new home inventory, keeping home builders busy as demand outpaces supply. The National Association of Home Builders' (NAHB) housing market sentiment index has rebounded to record highs since it plunged in April. With some would-be sellers reluctant to welcome buyer foot traffic into their homes amidst the pandemic, new home builders will be especially needed to replenish inventory.
Mortgage Rates will Stay Low
Average mortgage rates have touched the lowest level in the past 12 months and are likely to stay low. The Federal Reserve has indicated that they plan to keep the short-term federal funds rate at a targeted range of 0% to 0.25% through 2022. Securing a low mortgage rate now could reduce the lifetime costs of homeownership, making buying a home more affordable.
Home Price Trends will Vary Regionally
Zillow Research recently forecast a 2% to 3% post-coronavirus drop in home values around the country. However, home price appreciation trends vary significantly from region to region. Regions that are experiencing low for sale inventory and competitive markets may see home prices increase. Markets with less activity may see sellers dropping prices to appeal to buyers. If you have questions about your specific market, talk with a local real estate agent or loan officer. Your local housing professionals will have the best insight of what's going on nearby.
Housing professionals are expecting an exceptionally busy Fall home buying and selling season, especially after the Spring slowdown. If you're interested in buying a new home this Fall, the sooner you start the mortgage process the better. Let us know if you have any questions about getting prequalified.
Sources: Money.com