Market Forecast: FOMC Meeting, Housing Market Index, Housing Starts & Building Permits
Blog posted On December 14, 2020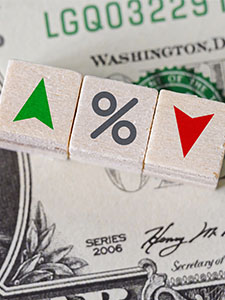 Last week, mortgage rates trended downward near historic lows. This week, the Federal Open Market Committee (FOMC) will meet on Tuesday and Wednesday, followed by an announcement from Federal Reserve Chair Jerome Powell on Wednesday afternoon. The National Association of Home Builders (NAHB) will release the housing market sentiment index on Wednesday as well. On Thursday, the reports on housing starts and building permits are scheduled for release.
The FOMC sets the federal funds rate. The federal funds rate will influence mortgage rates but not set them exactly. When the Fed raises rates, mortgage rates typically go up. When the Fed lowers rates, mortgage rates typically go down. Last month, the FOMC voted to hold the benchmark interest rate near zero and Federal Reserve Chair Jerome Powell said the plan is to keep rates low until the economy can recover from the coronavirus pandemic. At this upcoming meeting, the Fed is expected to stay the course of keeping rates low.
The National Association of Home Builders' (NAHB) housing market sentiment index is based on a survey of home builders' perceptions on current sales activity, sales expectations for the next six months, and buyer foot traffic. Any reading above 50 is considered positive. Last month, the home builder sentiment index reached a record high of 90. November marked the fourth consecutive month that the index broke its record high, revealing a positive outlook for the housing market's future.
Housing starts track ground broken on residential projects and building permits track permits issued. In October, housing starts reached a seasonally adjusted rate of 1.53 million, jumping 4.9% from the previous month. Though the number of building permits was initially reported as unchanged in October, the updated stat shows they decreased 0.1% month-over-month, falling to a seasonally adjusted rate of 1.54 million. The main contributing factor of the housing starts increase resulted from a 6.4% month-over-month gain in single-family starts. As more Americans are seeking more space in single-family suburban homes, more home builders are seeing rising demand for new construction.
This past year has been a challenge for most. However, between lockdowns, remote work, and stimulus checks, some working Americans have actually been able to save money during this difficult time – giving them the money they need for a down payment on a home. Down payments are often one of the hardest steps of the home buying process – taking many years of saving preparation for most. Interested in speeding up the process? Check out HomeFundIt.com to learn more about the world's first down payment gifting platform.
Sources: Bloomberg, CNBC, MarketWatch, MarketWatch, Mortgage News Daily