First-Time Home Buyers: Buy, Build, or Fix Up?
Blog posted On July 09, 2020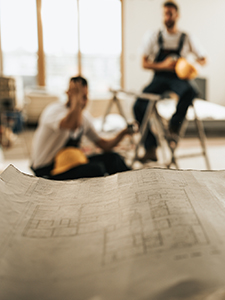 First-time home buyers are facing an especially competitive market this summer. Record low mortgage rates have made buying a home more affordable and first-time home buyers are expecting to be bidding on fewer homes for sale. When you're buying a home, you have the option to buy an existing home that is move-in ready, build a new home in a development or on your own land, or buy an existing home that needs repair or renovation before you move in. Depending on your market, your options may be limited, and you may have to be flexible.
Before you start shopping, it's important to set realistic expectations and be prepared for the pros and cons, whether you buy an existing home, build a new home, or go for a fixer-upper.
Buying an Existing Home
Most home buyers will go this route, existing home sales make up approximately 90% of all real estate transactions. You should buy an existing home, if you are ready to move now and are willing to compromise on some items on your wish list. In denser cities and neighborhoods, there may not be the land to build new and buying an existing home is your only option.
When you're buying an existing home, you need to be prepared to take the home as it is. Keep in mind an aging plumbing system or an HVAC that is on its last legs will cost you within the first few years of living there. Your home inspection will be an important tool to identify any near future repairs. If the repairs seem like they will be too much to take on, consider looking at another home. Buying an existing home in a competitive market means you need to be ready to move quickly.
Buying an existing home also tends to be less expensive than buying a newly built home, and it's usually a faster process. If you're on a deadline and ready to move right away, consider an existing home.
Building a New Home
When you build a new home, you'll be able to pick out everything you want. Most developments will have several floorplans to choose from, you'll get to pick flooring and wall colors, and all of your appliances will be new. Many new home builders also offer home warranties, to protect your home for the first few years.
Some cities and neighborhoods are more accommodating to new home builders than others. You may have to move farther from your office or your children's school, to find a new home development. You'll also spend more money. According to the National Association of Realtors (NAR), buying a newly built home costs a median price of $85,000 more than buying an existing home. As a trade-off, you won't have to repair or replace anything right away.
Buying a new home is the best option if you have a longer timeline and specific needs. Some new home builder communities pre-build homes that can be ready within 30 to 90 days. In other cases, you may need to wait several months before you can move in.
Renovating a Fixer-Upper
Fixer-uppers are becoming a more popular option amongst first-time home buyers who are looking for an affordable home in a specific neighborhood. The only thing you can't change about a home is the location, so if you've found the perfect neighborhood you may have to be willing to renovate.
Before buying a fixer-upper, it's important to identify your limitations and have a plan. Can you do most of the repairs yourself or does this home require extensive work done by professionals? A fixer-upper can be a great deal at first but be wary about pouring too much money into the renovation budget. Buying an existing home or building a new home may be a comparable option without all of the work.
Buying a fixer-upper is a good idea if you're experienced with home repair or have a budget to hire professionals. You may even be able to finance the costs of the repair into your mortgage through a renovation loan with one convenient monthly payment.
If you're planning to buy a home this summer, let us know. We can review your options and determine whether it's best to buy, build, or fix up your new home.
Sources: The Street