What to Know About Refinancing an Investment Property
Blog posted On January 07, 2021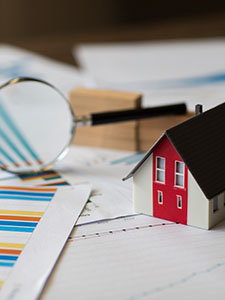 As interest rates have fallen to record-breaking lows over the past year, mortgage refinances have surged. Refinancing your mortgage can offer many benefits – such as lowering rates and monthly payments, removing mortgage insurance, and getting cash out for other investments. But keep in mind that if you are refinancing an investment property, you may have a few more factors to consider than when refinancing a primary residence.
More requirements
Though requirements vary per lender, the qualifications for a rental property refinance are often stricter than primary residence refinances. "With a primary residence, there's less risk because the presumption is a borrower would make greater strides to preserve the roof that's over their heads," says Julienne Joseph, assistant director of government housing programs at Mortgage Bankers Association. "If hardships were to happen, if there was a property they would allow to go into default, the primary residence is the one they're least likely to do so."
Further documentation
Similar to the documents you provided to your lender for your initial mortgage, for your refinance you will likely need to present two years of tax returns or W-2s, recent pay stubs with your year-to-date income, statements from any bank accounts or other assets, proof of homeowner's insurance, and a copy of any leases on the property. You may also want to prepare documentation of at least six months' worth of mortgage payments on the property. In order to use your investment property as an additional source of income on your application, you will need to prove that the tenants have paid for two or more years.
Additional costs
Because investment properties are seen as a greater risk to the lender than primary residences, they will likely come with higher interest rates. Plus, refinancing will require several thousand dollars in closing costs – usually at least 2% of the loan amount. If the closing costs are rolled into the loan amount, then you will be paying interest on those as well.
Though refinancing your investment property may require a few extra steps, there are many benefits that come with the process as well. In addition to the general refinancing benefits, refinancing your investment property can help you maximize your return on investment, increase your rental income, and give you the opportunity to get cash out in order to buy additional properties or fund other investments.
If you would like help determining whether or not a rental property refinance would be the right financial decision for you, talk to your financial advisor and feel free to ask us any other questions you might have.
Sources: Bankrate, Fox Business, Zillow