What Is a Home Warranty and How Can You Avoid a Rejected Claim?
Blog posted On August 12, 2021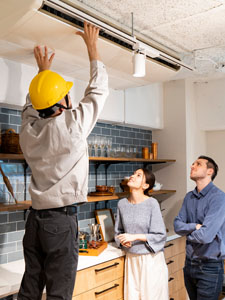 A home warranty covers repairs and replacements on major home appliances and features such as furnaces, HVAC, plumbing systems, and electrical systems. Instead of dipping into your savings or reserve funds for expensive repairs, you can purchase a home warranty for cheaper repair and replacement costs. Home warranties also make it easier for homeowners because they provide repairmen – meaning you don't need to track down a contractor. For home sellers, providing the option for the buyer to purchase a home warranty can provide some protection against buyer complaints after closing.
Home warranty costs and claims
The average annual home warranty costs about $600 per year – though the price may vary per provider, plan, and property type. You will also be required to pay service fees ranging from $75 to $125 per visit. One drawback of home warranties is submitting claims. Whenever an appliance or home feature needs repairing or replacing, you will need to submit a claim to your home warranty provider. Not only does this take time, but your claim also may not be approved. This can be frustrating if you've paid the annual fees for the warranty and still need to pay for uncovered repairs.
Reasons a home warranty claim might be denied
Denied claims can be frustrating and costly. To avoid the hassle, make sure that:
Your appliances are covered by your provider

Your appliances are well-maintained

Your appliances are properly installed and following code

You keep animals away from the appliances

Your appliance damage isn't caused by a different primary breakdown

Your coverage limit isn't exceeded

An unauthorized technician hasn't performed repairs
How to avoid a denied claim
To avoid a denied claim, make sure that you follow the steps above and pay attention to your home warranty's fine print. Take note of everything that is and isn't covered. Keeping maintenance records on any household appliances can also help. With these you can verify that you've performed the necessary maintenance steps over the years, and they have been performed by authorized personnel.
How to dispute a denied home warranty claim
Review the claim
By reviewing your claim, you can check to make sure that you haven't made any mistakes. Maybe you haven't provided enough evidence to substantiate your claim. If you add more information, you may be able to get your claim approved.
Contact your warranty provider to initiate the appeal process
Once you have reviewed your claim and ensured that it hasn't been denied for any of the reasons above, you can request the paperwork from your warranty provider that you will need to file a dispute. Going forward, keep a record of any correspondence you have with your provider – such as emails, note from phone calls etc.
Get a copy of the home inspection report
If your warranty provider sent a repairman to evaluate your appliance before denying your claim, request a copy of this report.
Request a third-party evaluation
Try to get a second opinion from an independent technician (not with your provider company) to compare their notes with the original inspection notes. Maybe they will be able to spot any mistakes with the initial report.
File a complaint with the Better Business Bureau (BBB)
If none of the steps above have helped your case, consider contacting the BBB. The BBB is a private organization that can help you report businesses that aren't doing their jobs well.
Home warranties can be a smart financial move and a good way to protect your savings, but they're not right for everyone. If you don't plan to stay in your home for much longer, it may be a waste of money. If you would like help determining if a home warranty is right for you, let us know.
Sources: Consumer Affairs, Investopedia, Money