What Are the Costs of Refinancing Your Mortgage?
Blog posted On February 25, 2021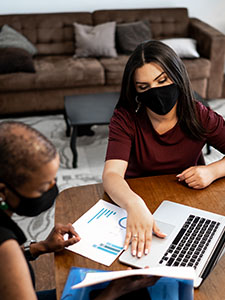 When mortgage rates are near record lows, it is a great opportunity for homeowners to refinance their home loans and potentially save thousands of dollars over the life of the loan. However, when making the choice to refinance, be sure to take all of these added costs into account.
Private Mortgage Insurance (PMI)
You might be familiar with PMI depending on the size of the down payment you put toward your home. In general, if you put less than 20%* down on your home using a conventional loan, you are required to pay PMI until you reach a certain loan-to-value ratio (LTV). PMI is charged in the form of an annual cost – usually about 0.3% to 1.5% of your mortgage, though costs may vary. The same concept applies when refinancing your home. If the result of your refinance gives you an LTV over 80% (meaning you have less than 20% equity), then you will likely be required to pay PMI. However, if you were previously paying PMI on your loan and have reached the necessary lender requirements to cancel your payments, you could use refinancing as an opportunity to do so. This tactic works well if your home has appreciated in value – like many homes have recently.
Adverse market fee
On December 1st, 2020, the Federal Housing Finance Agency (FHFA) began imposing the adverse market fee on conventional mortgage refinances. In response to the historically low mortgage rates, the FHFA began charging a 0.5% fee on all conventional loans in an effort to protect mortgage backers Fannie Mae or Freddie Mac. Last year's projections estimated that the government sponsored enterprises (GSEs) would lose around $6 billion related to foreclosures due to COVID-19. However, the fee is not applicable toward government-backed loans or loan balances less than $125,000. "On the whole, borrowers don't seem too concerned about this fee because it's baked into the rate they're being offered by their lenders. The effect this is having on consumers is negligible, and lenders are absorbing most of the cost," says Chris de la Motte, co-founder and president at Simplist, an online mortgage marketplace.
Closing costs
Similar to your initial mortgage, your refinance will come with costs such as an appraisal fee, title search, and title insurance – typically adding up to about 2% to 5% of the loan principal. These fees are called closing costs because they are typically paid upfront at the closing of your loan. However, in certain circumstances you have the option to borrow closing costs by increasing your loan principal and/or getting a higher interest rate. Taking into account your long-term plans can help you decide which closing cost option is right for you. For example, if you plan to stay in your home for a shorter period of time – five years or less – then a no-closing-cost option might be a good choice. It can take a long time to regain the money lost in upfront closing costs, so paying a higher interest rate for a few years could save you money in the long run. "The additional interest on the loan will add up over time," explains Greg McBride, chief financial analyst at Bankrate. "And the longer you have that loan, the higher that cost will go. If you have that loan for decades to come, you may end up paying those closing costs a couple of times over."
Refinancing your mortgage is a great way to lower your interest rate, get rid of costly mortgage insurance, and potentially save thousands of dollars. Though added fees are important to take into account, there are ways to make them less costly. We would love to help you navigate the refinance process and help you find ways to save the most money possible. If you would like to know if you qualify to for PMI cancellation or if you want to know more about your no-closing-cost options, let us know.
*Payment example: If you choose a $250,000, 30 year loan at a fixed rate of 3.3% (APR 3.5%), with a loan-to-value of 80%, you would make 360 payments of $1,122.61. Payment stated does not include taxes and insurance, which will result in a higher payment.
Sources: Bankrate, Bankrate, Forbes, Fox Business