Warning: 4 Ways You're Paying Too Much for Your New Home
Blog posted On July 01, 2020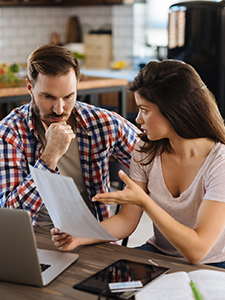 Buying a home is a big investment, you don't want to spend too much up front. Failing to look into a home's history or forgoing a home inspection could cost you more than you bargained for.
Even if you've bought a home in the past, these seemingly simple mistakes could cost you big time.
You Work with the Wrong Agent
Your Realtor or real estate agent should be your biggest advocate in the home buying process. Especially, if physical tours in your area are restricted or limited, you're going to need to rely on your agent to have your best interests in mind. Choose an agent that is familiar with the area where you'd like to move. A local agent will know what you should expect from homes in your area and what a reasonable price should be. If your agent is too pushy or suggesting homes that don't fit all of your needs, you may be working with the wrong agent. Read reviews, ask around, and find an agent you know you can trust.
You Don't Do Your Research
Buying a home can be an emotional experience. This could be the place you're going to raise your family or the place you're going to enjoy your retirement, so you want it to be perfect. Failing to do your research or working with an agent who fails to do their research, could leave you stuck in the wrong home. For example, with today's low interest rates and limited number of homes for sales, homes are selling relatively quickly. If the home you're looking at has been on the market for too long, it may be overpriced, it may have a structural issue, or the seller may be unwilling to negotiate.
You Buy the Highest-Price Home in the Neighborhood
When you're shopping for a new home, you will usually look at the "comps" or comparable homes in the area to see how much they sold for and what features they have. Looking at comps helps you ensure you get the best deal. If the home you're looking at is the most expensive one in the neighborhood, that could be a red flag. It could come with features you don't necessarily need and won't use. It could also sell for less later on. Buying a home in the middle of the neighborhood price range means it will still appreciate in value and even if you remodel the home, you'll most likely be able to recoup those costs when you sell.
You Don't Think About Selling
This one may be a surprise. You're buying your home, why would you think about selling it? Life changes and you may have to sell your home to relocate for work, downsize, upsize, or any number of reasons. When you buy a home, you should always consider the resale value. Buying a home with specific features you like, but other buyers may not be willing to pay for, is a mistake. Looking at the comparable homes in your area will give you an idea of what other buyers want.
Buying a home is an investment, and you want to get a return on your investment whether you enjoy many happy years there or resell later for a profit. If you have any questions about preparing to buy a home, let us know!
Sources: The Motley Fool