The Real Winner of the Election: Home Buyers and Homeowners
Blog posted On November 17, 2020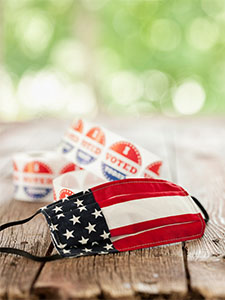 Two weeks ago, millions of Americans flooded the polls to answer one question, and last week, the results finally came in. So, who really won the election? According to the housing market – you did.
During election week, homeowners and buyers saw some of the lowest mortgage rates of the past twelve months. "Interest rates dropped to another record low [two weeks ago] ... because of uncertainty around the election results," said George Ratiu, senior economist at Realtor.com. As we mentioned last week, 'rising political concerns' are one of the main factors that can affect housing market trends. Between the uncertainty of our political future and the Federal Reserve voting to leave the benchmark interest rate near zero, there were several factors that caused mortgage rates to trend downward – and there are several ways you can take advantage of them now.
Decrease monthly mortgage payments
An approximate 18.5 million homeowners could save money by lowering their interest rate now, according to Black Knight. The average homeowner could save around $300 per month on their mortgage, while 2.5 million homeowners could save over $500 per month. If you're buying a home, you have the advantage of locking in a fixed rate while interest rates are extremely low. If you already have a mortgage, you have an opportunity to lower your monthly payment with a mortgage refinance.
Save over the life of your loan
If you finance your home with a 30-year fixed-rate mortgage with current rates, then you not only would be saving hundreds on your monthly payments, but thousands over the life of your loan. Saving $300 per month on interest could reduce a 30-year loan payment by $108,000. Saving $500 per month could save you $180,000 over the life of your 30-year loan. That's nearly $200,000 that you could invest elsewhere or use to pay down other debt.
Pay off debts and fund other investments
In the second quarter of 2020, the Federal Reserve Bank of New York's Household Debt and Credit reported that the average American had $51,900 in total outstanding debt. Excluding mortgage loans, the average American had around $16,000 of debt. By saving thousands on your mortgage payments, you can put that money toward paying off other debt like auto loans, student loans, credit card debts, and personal loans. If you already have all of your debts paid off, congratulations! Then you can put your savings on a mortgage toward retirement funds, stock investments, or even home renovations.
Buy or build a home with more space
One of the main reasons many home buyers are seeking to take advantage of record low interest rates is by buying a home with more space. With quarantining, working from home, and learning remotely, many homes have felt much more crowded over the past several months. "With a rising second wave of COVID cases, the challenge of social distancing continues to drive peoples' quest for a housing solution," said Ratiu. Buying a larger home is a popular housing solution right now, but refinancing is booming as well. Last week, refinance application submissions were up 67% from 2019. Opting for a cash-out refinance is a great way to lower your mortgage payments and fund home renovations. You could finally add on a home office that's not in the kids' playroom, or a playroom that's not in your office.
Over the past several months, mortgage rates have touched some of the lowest points in history. During election week, they were close to a full percentage point lower than 2019, according to CNBC, proving that homeowners and home buyers are the real winners this election season. If you want to secure your win, let us know. You've locked in your votes, now it's time to lock in low rates!
Sources: Barron's, Business Insider, CNBC, Housing Wire