Stay-At-Home Guidance Drives Home Remodeling Boom
Blog posted On August 25, 2020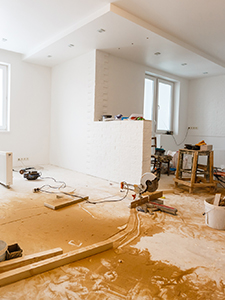 If it seems like you're hearing a lot of hammer and sawing lately, your neighbors may be participating in the current home remodeling boom. Low mortgage rates combined with a steep increase in time spent at home is driving home remodeling and renovation activity across the country. Online home remodeling professional directory, Houzz, reported a 58% increase in project leads from June 2019 to June 2020.
According to the Wall Street Journal, this summer's top remodeling projects include home offices, outdoor spaces, and behind the scenes elements like HVAC and plumbing upgrades.
Home Offices
With more homeowners working from home, a dedicated home office space is quickly becoming one of the most popular additions. CNBC reports home extensions and additions climbed 52%. Remote workers are seeking more light, more outlets, and when possible, a convertible space. In homes without a separate office room or room to add on, some homeowners are opting for home-office nooks by sectioning off part of a living room or den with desks or bookshelves. If your home office needs electrical work, make sure you work with a licensed electrician. Do-it-yourself electrical work can be dangerous and problematic when it's time to sell.
Backyard Upgrades
As Americans adapt to an al-fresco lifestyle, backyards are seeing major makeovers. International distributor of swimming pool supplies and backyard accessories, Poolcorp, has seen its stock soar 54% year-over-year, hitting an intraday high in early August. Previously shared spaces like community pools, gyms, and saunas are either closed or restricted, and homeowners are investing in their homes to fit their outdoor needs.
Your Home's Bones
One of the most valuable home renovation projects homeowners undertake takes place behind the scenes. While aesthetic remodeling is often subjective, upgrading or replacing a home's HVAC, plumbing, roof, or other critical infrastructure almost always increases the home's resale value. A new air conditioning unit, for example, will also reduce utility costs, making your home more energy efficient. Another popular project is redoing the kitchen or bathroom, CNBC reports demand for kitchen and bathroom remodels surged 40% year-over-year. If you choose to remodel your kitchen or bathroom, focus on appliances and fixtures. Focusing on functional features will give your home more longevity, and likely net you more return on investment when it's time to sell.
If you're thinking about a home renovation project, talk with a loan officer about a cash out refinance. ATTOM Data Solutions reports over 15 million residential properties were considered "equity-rich" in the second quarter of 2020, meaning the mortgage on those properties was 50% or less than the value of the home. Using a cash-out refinance to tap into your home's equity is one way to pay for a home renovation project and add value to your home. With today's low mortgage rates, a refinance could also be an opportunity to lower your rate and payment.
If you have any questions about refinancing your mortgage, let us know.
Sources: CNBC, The Wall Street Journal