Shelter-At-Home Improvement Projects
Blog posted On April 29, 2020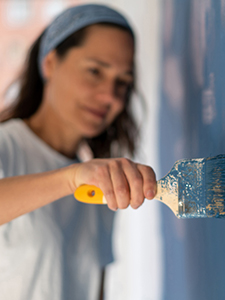 As the coronavirus outbreak has led to increased social distancing precautions and shelter-in-place orders, many parts of the country have been advised to quarantine in their homes. Stay-at-home orders have disrupted routines and shut millions off from the traditional world, Americans are searching for ways to pass the time. While isolating, there are plenty of projects to make your home a more enjoyable place to quarantine.
If you're looking for quarantine projects other than baking bread and DIY haircuts, consider these four shelter-at-home improvement ideas.
Use Up Some Spare Paint
Do you have extra cans of paint collecting dust in your storage closet? Why not put up a couple fresh coats of paint! Whether you opt to paint a large room or just one or two walls, this is a simple and productive DIY project to complete during quarantine. When choosing a color, remember that bright or pale colors, such as white, eggshell, or yellow will make a room appear larger. Darker colors are best for main walls or large, open rooms, since they could make rooms look smaller.
Clean Your Windows
This chore probably wasn't on the top of your to-do list this winter, but now is the time to wash your windows. Take the time to thoroughly clean the inside and outside surfaces. Not only will maintaining cleanliness help your windows last longer, but it also increases curb appeal. Taking the time to wash your windows can brighten up each room of your house. Even if you can't go outside, you can at least get yourself a clearer view.
Rearrange the Furniture
Getting tired of looking at the exact same décor every single day? Some Feng Shui can go a long way. Rearranging the furniture and switching out your décor can give a breath of fresh air to every room. It can be as simple as bringing out a different set of throw pillows and a blanket from storage to add a new pop of color. Or, you can re-position your bedroom furniture to reinvent to room. Maybe you'll wake up more refreshed with natural light if the bed is facing the window. Or, perhaps moving the dresser to a corner will free up some extra space.
De-clutter Rooms and Closets
How many things are taking up space in your home that you could do without? As the 2019 Netflix series "Tidying Up With Marie Kondo" taught us, minimalism can help you feel more at peace in your home. If your house is filled with items that have no value to you, what's the point in keeping them around? You can de-clutter closets, storage rooms, and get rid of the junk on your countertops. For everything you don't want to keep, such as clothes, décor, stuffed animals, kid's toys, etc., you can choose from a few different methods of disposal. You can give items to friends or acquaintances that may have better use for them, you can donate, or simply just throw them away. For all of the items that you opt to keep, make sure each has its own place in your home, so it's not simply taking up space.
If you're advised to quarantine in your home, you might as well enjoy the space you're in. We're all looking for things to do while isolating and trying new projects to improve your largest investment is a productive way to pass time. If you're looking to further improve your home through renovations or full remodels, a renovation loan or a refinance may be your best option. If you have any questions about home financing solutions, let us know.
Sources: Indowindows, RealSimple, KonMari