Share of Single American Homeowners Reaches 118-Year High
Blog posted On June 02, 2020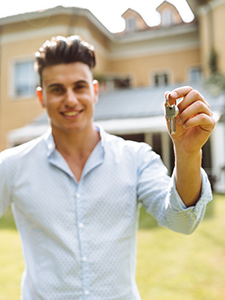 Americans are no longer delaying homeownership until marriage, according to US Census Bureau data. In 2019, single Americans owned 38.4% of US housing stock, the largest share of single homeowners in 118 years. Numerous factors may have caused the increase including Millennials delaying marriage, viewing a home as an investment and a place to live, and lower mortgage rates.
The share of single homeowners increased in regions with affordable homes. Single homeowners 35-years-old and younger were more likely to never have married and single homeowners 55-years-old and older were more likely to be divorced and not remarried. Single women are also buying more homes than single men, accounting for nearly 20% of home purchases in 2019, according to the National Association of Realtors.
With historically low mortgage rates, and availability of down payment assistance programs, many single homeowners see the value in purchasing a home now rather than waiting and possibly working with higher interest rates later as a married couple. Additionally, more single homeowners view a home as both an investment and a place to live. If they choose to combine households with a spouse later, the entry level home or condo they bought alone could become a rental home.
If you are single and you want to buy a home, you're in good company. Here are the steps any homeowner should take before buying their first home.
Increase Your Down Payment
While a 20% down payment is not required to buy a home, a larger down payment means you have to borrow less. You can increase your down payment savings through down payment assistance programs at the federal, state, and local level, many designed specifically for first-time home buyers. You could also use HomeFundIt™ to grow your down payment with contributions from family and friends.
Get Preapproved
Many first-time home buyers make the mistake of shopping for a home before they have talked to a mortgage lender. Getting preapproved for a mortgage gives you an idea of how much home you can afford and what type of mortgage you'll use to finance it. You'll be able to set a realistic down payment goal and budget.
Consider Rental Opportunities
If you are looking at this home as an investment opportunity, and plan to rent it someday, check out the local rental market. See how much the rental rate is on comparable homes in the area. Make sure the homeowner's association does not have any restrictions on rental homes. If you'd like to someday rent out the home when you move, you want to make sure to think ahead now, so you aren't stuck with any surprises later.
Sources: Fox Business, NBC News