Report: It Could Take Up to 21 Years or More to Save a 20% Down Payment
Blog posted On July 14, 2020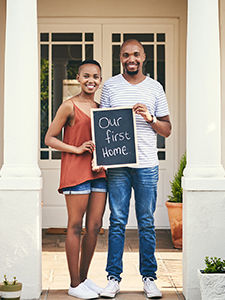 If record low mortgage rates have you thinking about buying your first home, the cost of a 20% down payment may have you thinking twice. Although many first-time home buyers believe a 20% down payment is required to buy a home, that's not the case. Putting down more money isn't a bad thing; it can help you avoid paying mortgage insurance; however, a 20% down payment is not a requirement.
A new report from US Mortgage Insurers discovered that in some cases it can take up to 21 years to save for a 20% down payment in today's economic climate. If 21 years sounds like too long to wait, you do have other options.
Low Down Payment Mortgage Loans
You may know about government-sponsored mortgage loans with low to no down payment requirements, but did you know there are conventional options as well? Some low down payment options include:
VA Loan – 0% down payment for qualifying Veterans, active duty military, and surviving spouses.
USDA Loan – 0% down payment for qualifying rural and suburban homes.
FHA Loan – down payment as low as 3.5%
Conventional Loans – down payment options as low as 3%
To find out if you qualify for a low down payment mortgage loan, talk to a loan officer. Down payment requirements vary based on your credit score, debt-to-income ratio, and other unique elements of your financial profile.
Down Payment Assistance
Down payment assistance is available at the federal, state, and local level depending on your specific situation. There are over 2,500 down payment assistance programs available nationwide, and many are designed specifically for first-time home buyers.
Down payment assistance may be available as:
A Grant – a set amount of money you do not have to pay back.
A zero-interest, forgivable loan – a loan that does not need to be repaid after a set amount of time.
A zero-interest, deferred payment loan – a loan that does not have to be paid back until you sell the home or refinance the home.
A low-interest loan – a loan that is paid back over time, but alleviates the upfront cost of a down payment.
To find out what types of down payment assistance you qualify for, talk to a loan officer. Down payment assistance options will vary depending on your location, income, and whether or not you are a first-time home buyer.
Down Payment Gifting with HomeFundIt™
HomeFundIt is an easy tool to collect down payment gifts online and safely store them until home purchase. Anyone can give with a debit or credit card up to $5,000 per person. There are no gift letters or seasoning requirements.
HomeFundIt also has additional ways to earn more money toward your home purchase through a grant opportunity. Qualifying first-time home buyers can get up to $1,500 or 1% of the purchase price three different ways. Get $2 for every $1 gifted, get $4 for every $1 earned through cash-back shopping, and get $5 for every social media share through your campaign page. To learn more visit www.homefundit.com.
Buying a home is a critical first step to building wealth in an appreciating asset. The right loan officer will work with you to find the best path to achieve that goal. If you have any questions about buying your first home, let us know.
Sources: Forbes, NerdWallet