REALTORS Answer Their 5 Most Commonly Asked Questions
Blog posted On March 10, 2021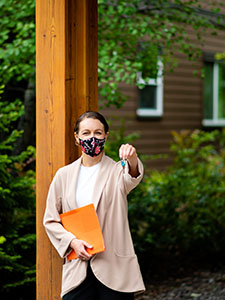 When it comes to buying a home, your REALTOR® is your go-to guru. Whether it's questions about the home's price or concerns about the strength of your offer – you'll likely look to your REALTOR® for all the answers. Naturally, home buyers will have questions and concerns when purchasing a home. If you think you're alone in your concerns, you're not. Don't believe us? Here are five of the most common questions a REALTOR® gets asked.
1. How is the market right now?
The housing market is moving quickly right now – with some homes even selling before they go on the market. Many sellers are getting more money than their listing price, "and it's a very competitive market for buyers as thousands of millennials enter the housing market looking for homes," says Nalee Vue of Keller Williams Classic Realty NW in Maple Grove. With low interest rates and increasing work-from-home incentives, many people are looking to buy. "It's a great time to buy and sell as so many folks are moving."
2. How do I qualify to purchase a home or condo?
Mortgage qualification requirements vary per lender and type of loan. For example, FHA Loans are available with down payments as low as 3.5%*, but lower credit scores will require a 10% down payment. Credit scores as low as 580 can qualify for a 3.5%* down payment, but credit scores between 500-579 will require a 10%* down payment. VA Loans, on the other hand, are available with no down payment to eligible veterans, National Guard Memebrs, active-duty military, and surviving spouses. Conventional loans will have higher credit score requirements and will require private mortgage insurance (PMI) if you put down less than 20%*. "By contacting a lender to see what available buyer power you have via a credit pull and additional lender requirements to have a lender-issued preapproval letter to accompany any offer," says Lance Greene of Compass in Cambridge, Massachusetts.
3. How long will it take for me to find a home?
With a lower-than-normal housing supply, the buyer competition in today's market is high. Even if you find a house that you love, you will likely be competing against other offers. "The home buying process timeline will depend on how motivated you are to tour homes, how competitive you are with your offer in order to get it accepted, and how soon you would like to close on a home, such as in 30 days or more," Vue says. To make your offer more competitive, try to get preapproved for your mortgage before starting the home search process. You can begin your application on our website today.
4. What are closing costs?
Closing costs are a variety of fees that you will pay when you close on your home, including attorney fees, inspection fees, and any other payments needed to satisfy the terms in your sales agreement. "They usually will run in a range of two to five percent of the provided loan amount," says Greene.
5. What does it mean if a home has been on the market for a while?
D.O.M. refers to 'days on the market.' "Sometimes, high D.O.M.s equate to lack of buyer interest, a property being overpriced, or lots of inventory," Greene says. If there are many other homes on the market, buyers have more options, and homes might be listed for longer periods of time. On the other hand, if there are fewer homes on the market or a lower home inventory, then homes will probably sell faster. Additional factors that could put a home on the market longer is if it isn't passing inspections, or isn't priced right. If a home is overpriced, buyers might either find a home with a more suitable price rather than negotiating.
We know that buying a home can be intimidating – especially if it's your first time. But that's why we're here to help – with any and all of your questions or concerns. The real estate and mortgage industries are very closely intertwined and overlap in many ways. Though real estate agents and loan officers have different areas of expertise, we both can help you through the home buying process. So, don't hesitate to reach out – our door's always open!
*Payment example: If you choose a $250,000, 30 year loan at a fixed rate of 3.3% (APR 3.5%), with a loan-to-value of 80%, you would make 360 payments of $1,122.61. Payment stated does not include taxes and insurance, which will result in a higher payment.
Sources: Apartment Therapy