Over 8 Million Borrowers Could Save with a Mortgage Refinance
Blog posted On July 16, 2019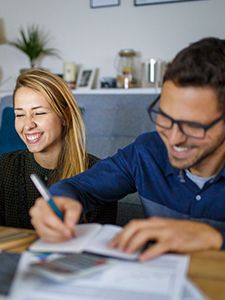 After a steady climb throughout 2018, 2019 has seen the opposite in mortgage rate activity. Average mortgage rates continue to trend lower. Mortgage software and analytics firm, Black Knight, reported that at the end of June, approximately 8.2 million homeowners could benefit from a mortgage refinance. This figure is nearly 4.5 times greater than the number of potential refinance candidates at the end of November 2018.
Homeowners choose to refinance for a number of reasons. Some of the most common reasons are to get a lower mortgage rate, reduce the loan term, remove mortgage insurance, or to get cash out. According to Black Knight, the 8.2 million refinance candidates could lower their interest rate by at least 75 basis points. 1.5 million, or 35% of those refinance candidates, took out their original mortgage just last year.
With a rate and term refinance, the homeowner lowers their monthly mortgage payment by originating a new loan with a lower interest rate. Changing the term of the loan may also reduce its total cost. For example, switching from a 30-year fixed-rate mortgage to a 15-year fixed-rate mortgage will mean a higher monthly payment, but a lower overall lifetime cost of the loan, since you will pay less interest. Switching from an adjustable-rate mortgage to a fixed-rate mortgage is another way to save. Adjustable-rate mortgages typically have a lower introductory rate and then the interest rate will fluctuate over time based on market activity. Fixed-rate mortgages will maintain the same interest rate throughout the life of the loan.
A refinance is also an opportunity to change loan programs. Many first-time home buyers benefit from an FHA loan because of its lower down payment requirements and more lenient credit standards. However, with an FHA loan the borrower has to pay a Mortgage Insurance Premium throughout the life of the loan. Switching from an FHA loan to a conventional loan will, in some cases, remove the ongoing cost of mortgage insurance.
Homeowners who have built at least 20% equity in their home could refinance their mortgage loan to get cash out. A cash-out refinance is a way to pay for a home renovation, pay down higher-interest debt, or cover another expense. With a cash-out refinance, a new loan is originated for the amount still owed on the home plus the amount they're choosing to withdraw. Black Knight found that of the 44 million homeowners with at least 20% equity in their homes, the average amount they can withdraw is $136,000.
When deciding whether or not to refinance, its best to consider all of the costs. A mortgage refinance is a new loan origination and will come with closing costs. You can compare your current mortgage payment with your potential new payment with our rate and term mortgage calculator under the refinance tab above.
Sources: CNBC, HousingWire