New Year's Down Payment Countdown
Blog posted On December 31, 2020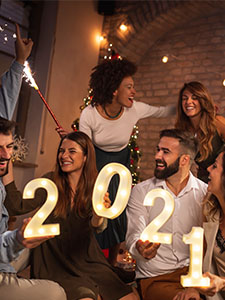 Let the countdown begin! While the world is busy counting down to 2021, we're counting down all the different ways you can buy a home with less than 20% toward your down payment. Many people think that a 20% down payment is the only route to homeownership. In reality, over half of all home buyers make down payments that are less than 20%. If you're looking for ways to purchase a home with a smaller down payment, here is a countdown of some of the most common options.
5%
Conventional loans are a type of mortgage that is not backed by a government entity and is available through private lenders. However, there are two government-sponsored enterprises (Fannie Mae and Freddie Mac) that secure conventional loans as well. Many people believe that you need a 20%** down payment for all conventional loans, but some buyers can put down as little as 5%**, or in some cases, even 3%*.
3.5%
The FHA Loan is a popular mortgage option that offers down payments as low as 3.5%* (though there are other options as well). However, in order to qualify for that percentage, you have to have a credit score of 580 or above. Backed by the Federal Housing Administration (FHA), this loan is generally available for borrowers with a FICO score of 580 or above, and who can meet the other restrictions that apply such as the debt-to-income (DTI) ratio, property requirements, and income verification. Another option is Freddie Mac's HomePossible® Loan, which is available for borrowers to put as little as 3.5%** down, depending on their credit scores. However, if a home buyer opts for this down payment option, they will be required to pay mortgage insurance until they reach 20% home equity. After that, it is eligible for cancellation.
3%
There are several loan options available for down payments as low as 3%** as well, including Freddie Mac's HomePossible and Fannie Mae's HomeReady®. The HomeReady loan is available to first-time buyers or repeat buyers. Like HomePossible, the HomeReady loan requires mortgage insurance until the borrower reaches 20% equity. The down payment and closing costs can come from the home buyer's savings or other sources like gifts and grants.
0%
Zero down payment is available through the USDA Loan and VA Loan. The USDA Loan is a rural development loan that is available in select rural and suburban regions. Backed by the United States Department of Agriculture, the USDA loan is available for qualified applicants that meet the income, credit score, DTI, and home location requirements. To see if your property is eligible for a USDA Loan, visit the USDA website, or ask your loan officer for more information.
The VA Loan is a loan available to eligible Veterans, active-duty military, and surviving spouses. Though a small funding fee will be required for first-time borrowers who put 0% down, it can be rolled into the cost of the mortgage. However, if you roll the fee into the mortgage, then you will be required to pay interest on it. If you receive disability compensation for service-related injuries, then your funding fee is waived.
Though the year is almost over, the countdown has just begun has just begun. What better way to start the New Year than with a new home? If you're concerned about your down payment, there are many low down-payment options available. You can also use the world's only down payment gifting platform, HomeFundIt™, to receive easy and efficient funding from friends, family, and anyone else who wants to give! For more information on low down payment options, talk to us today or first thing next year.
*FHA Payment example: If you choose a $250,000, 30-year loan at a fixed rate of 3.75% (3.94 APR) with a loan-to-value (LTV) of 96.5%, and a $173/month PMI, you would make 360 monthly payments of $1,315. Payment stated does not include taxes and insurance, which will result in a higher payment.
**Conventional Payment example: If you choose a $225,000, 30 year loan at a fixed rate of 4.75% (APR 4.900%) with a loan-to-value of 80%, homeowners insurance of $900/yr and property taxes of $2,700/yr, you would make 360 payments of $1,494.14
Sources: Apartment Therapy, Bankrate, Freddie Mac, Fannie Mae, Zillow