More Americans Are Taking Advantage of Their Home Equity
Blog posted On November 16, 2021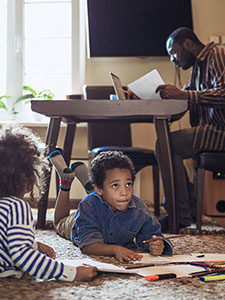 As property values continue to rise, homeowners continue to gain more equity. According to Federal Reserve data, U.S. home equity reached a record high of $23.6 trillion in the second quarter of 2021. That's nearly double the amount of home equity from the 2006 housing boom.
But what does this really mean for homeowners?
With more home equity, homeowners have greater net worth, more financial freedom, and increased purchasing power. Home equity is the amount of the property that you own. In other words, it's the difference between your home's current market value and the amount of mortgage you have yet to pay. So, if your home is currently valued at $400,000, but you still owe $300,000 on your mortgage, you have $100,000 in equity – or 25%. Your home equity will fluctuate as your home's market value fluctuates. For example, if you make home renovations or upgrades, it's likely that your home's value will increase. If the overall market is seeing increased home values, then your equity will likely increase as well. If your home's value rises to $450,000 (with a $300,000 mortgage), you would then have $150,000 in equity – or 33%.
Luckily for homeowners, home values have been skyrocketing over the past 18 months. In August, home prices rose 19.7% annually, according to the 20-city Case-Shiller home price index. "We have record home equity thanks to record home prices," said Dan Roccato, financial analyst with Credible. "We've had this incredible run-up in home prices over the last 18 months." As a result, more homeowners are deciding to put their equity to good use.
Last week, Black Knight reported that the number of cash-out refinances was up 33% year-over-year in October. A cash-out refinance allows you to take out some of your equity and use it for other expenditures or investments. Plus, you might be able to lower your interest rate and cancel costly mortgage insurance. If you have enough equity, you can refinance your FHA Loan to a conventional loan and remove your mortgage insurance. Right now, interest rates are still relatively low. However, as the Federal Reserve continues its tapering process and the economy continues to gain strength, it's likely that mortgage rates will slowly rise. The Federal Reserve is planning to complete its tapering process mid-2022.
"The dynamics of the refinance market are changing, with a sharp shift away from rate and term refis to cash-out lending," said Scott Happ, president of Black Knight's Secondary Marketing Technologies. "This shift tends to happen in any rising rate environment, never mind one in which American mortgage holders have more than $9 trillion in tappable equity."
You can calculate your home equity and refinance savings by heading to our mortgage calculator page. If you have any other questions about cash-out refinances or would like to determine your home equity level, let us know.