Market Update: Rates Rise; Case-Shiller Home Price Index, New Home Sales, and Pending Home Sales Coming Up this Week
Blog posted On October 25, 2021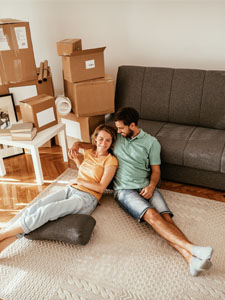 Last week, mortgage rates trended upward. Even though existing home sales and home builder sentiment showed growth, rates continued their upward momentum. "There really isn't any great, short-term explanation for the incremental [increases]," noted Mortgage Daily News contributors. Rates have simply been carried by an upward momentum since the Fed hinted at tapering assets in November or December. Unless the economic outlook or COVID recovery drastically changes over the next few weeks, it's likely the Fed will begin the tapering process.
There are several important housing reports scheduled for release this week. On Tuesday, the Case-Shiller home price index will be released followed by the new home sales report. On Thursday, the pending home sales report will come out.
The S&P Case-Shiller home price index tracks changes in the value of homes involved in two or more sales transactions across 20 major metropolitan areas throughout the country. Though the data lags by a month, it is still used to gauge home price appreciation trends. In July, the Case-Shiller home price index rose to an all-time annual high rate of appreciation of 19.9%. This marks the fourth month of record-breaking growth for home prices. Month-over-month, the 20-city index posted a 1.5% increase. Housing experts predict that home prices will likely continue to increase over the next several months, but at a slower pace than the past year and a half.
The new home sales report tracks the sales of newly constructed homes and accounts for about 10% of total residential real estate transactions. In August, new home sales rose 1.5% to reach a seasonally adjusted annual rate of 740,000. This marked the second consecutive month of increases. August also marked a record-high supply of new homes on the market. There were 378,000 new homes on the market in August, the highest number since October 2008. At the August sales pace, it would take 6.1 months to clear out the supply of new homes for sale. Despite construction backlogs and bottlenecks, home builders are working hard to provide buyers more options in the competitive post-pandemic market.
The pending home sales index tracks changes in the number of homes that are under contract but not yet closed. Pending sales surged in August after two months of declines. Month-over-month, pending sales were up 8.1%. Analysts were expecting a 1% increase. Typically, increases in pending sales indicate a future increase in existing sales.
Also scheduled for release this week is the FHFA home price index, the weekly mortgage application survey, the weekly jobless claims survey, GDP, consumer spending, personal income, and core inflation.
In a broader outlook, the Fed's tapering isn't necessarily bad – in fact it's quite the opposite. It shows that the economy has gained enough strength to start walking on its own again. It no longer needs the Fed's training wheels. There will likely be an adjustment period throughout tapering process, but eventually, it should level out. If you would like to talk more about the market trends or mortgage rate options, let us know. You can also compare rate scenarios on your own with our mortgage calculator.
Sources: Bloomberg, CNBC, Mortgage Daily News, Reuters, S&P Dow Jones Indices