Market Recap: Home Builder Sentiment Hits Record High, Housing Starts and Building Permits Climb, Existing Home Sales Surge
Blog posted On October 23, 2020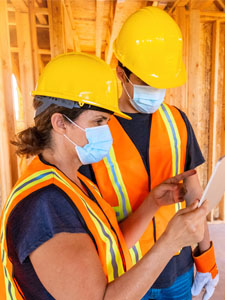 Mortgage rates trended slightly upward this week, but still remain in a historically low range. The home builders' sentiment index reached a record high for the third month in a row. Housing starts and building permits increased. Existing home sales rose for the fourth consecutive month.
The National Association of Home Builders' (NAHB) housing market sentiment index reported a month-over-month increase of two points, reaching 85 in October. October marked the third month in a row that home builder sentiment reached a record high – surpassing 80 points for only the second time since record-keeping began. "New single-family home sales are outpacing starts by a historic margin," said Robert Dietz, chief economist at the NAHB. Americans are flooding the housing market to take advantage of record-low interest rates, but some people are still reluctant to sell. Thus, low housing inventory has caused a surge in demand for newly built homes.
In September, housing starts climbed at a seasonally adjusted rate of 1.42 million. Month-over-month housing starts rose 1.9%, while year-over-year they increased by 11%. Building permits climbed as well, reaching a seasonally adjusted rate of 1.55 million. This marked a 5% increase from the number of building permits in August, and an 8% rise from last year. Single-family housing starts were up 22% from last year, while multifamily starts were down 17%. As many people search for more space in the midst of COVID-19, multifamily buildings have become less desirable, and single-family homes are the new goal.
Existing home sales surged in September, with a 9.4% month-over-month increase. Reaching a seasonally adjusted level of 6.54 million, existing home sales were 21% higher than last year. More than 70% of the homes on the market in September were sold in less than one month. According to chief economist at Realtor.com, Danielle Hale, strong buyer and seller confidence has helped boost home sales significantly.
Home sales are rising at an exceedingly fast pace. Buyers are eager to take advantage of some of the lowest mortgage rates in history. If you haven't already, talk to us about locking in your mortgage while interest rates are low. It may seem like a small decision now, but it could end up saving you thousands of dollars in the long run.
Sources: MarketWatch, MarketWatch, MarketWatch, MarketWatch, Mortgage News Daily