Market Recap: Home Builder Sentiment Drops, Housing Starts & Building Permits Surge, and Existing Home Sales Jump
Blog posted On January 22, 2021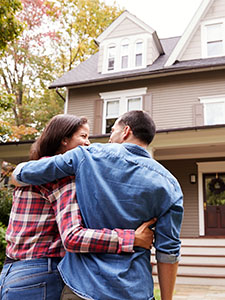 Mortgage rates remained relatively unchanged this week, still hovering near historic lows. The National Association of Home Builders' (NAHB) housing market sentiment index showed a slight drop in home builder confidence. Housing starts and building permits hit the highest level in 14 years. Existing home sales rose in December, marking the highest annual level since 2006.
The housing market sentiment index dropped by 3 points in January, falling to a level of 83. Though the reading still remains historically strong, January marks the second month of declines for the index. Several factors contributed to the decline. "A shortage of buildable lots is making it difficult to meet strong demand and rising material prices are far outpacing increases in home prices, which in turn is harming housing affordability," Robert Dietz, chief economist for the NAHB, said in the report. The rising COVID-19 cases are an additional concern. Overall, demand for new homes is still high, interest rates are still low, and builder sentiment is likely to remain strong.
Housing starts and building permits increased in December, hitting the highest levels in 14 years. Rising to a seasonally adjusted annual rate of 1.67 million, housing starts saw a 5.8% increase month-over-month. Building permits rose by 4.5% month-over-month to reach a seasonally adjusted level of 1.71 million. Year-over-year housing starts were up 5% while building permits were up 17%. Similar to previous months, construction on single-family homes was the major contributor to the rise in both housing starts and building permits. Month-over-month, single-family starts grew by 12%. Demand is still elevated compared to last year, which continues to give builders a "strong incentive to keep building," says Danielle Hale, chief economist at Realtor.com.
Existing home sales jumped 0.7% in December, to reach a seasonally adjusted annual rate of 6.76 million. Year-over-year, sales were up 22.2%. "Home sales rose in December, and for 2020 as a whole, we saw sales perform at their highest levels since 2006, despite the pandemic," said Lawrence Yun, NAR's chief economist. "What's even better is that this momentum is likely to carry into the new year, with more buyers expected to enter the market."
With home buyer demand still strong, housing construction has continued to increase. As more homes become available in the market, prices will likely fall. Prepare to put in the best offer on your dream home as soon as possible by getting preapproved first. To get started, contact us today!
Sources: MarketWatch, MarketWatch, MarketWatch, Mortgage News Daily, PRNewswire