Market Recap: Home Builder Confidence Improves, Housing Starts Fall, Building Permits Rise, and Existing Home Sales Increase
Blog posted On February 19, 2021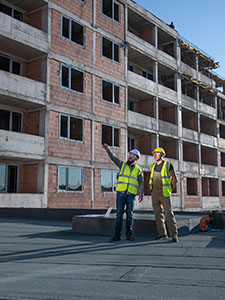 Mortgage rates inched upward this week but are still trending near historic lows. The National Association of Home Builders' (NAHB) housing market index showed an increase in home builder confidence. Though housing starts dropped slightly, building permits soared to their highest level in 15 years. Existing home sales increased for the second month in a row.
Home builder sentiment rose one point this February to reach a level of 84. Though small, the increase is exceedingly hopeful, as any reading above 50 on the index is considered positive. In comparison, during February 2020 – just before the coronavirus shutdown – the index's level only stood at 74. Home buyer demand has been surging over the past year, which is keeping home builders busy and hopeful for the future. "Demand conditions remain solid due to demographics, low mortgage rates and the suburban shift to lower-cost markets," said Robert Dietz, chief economist for the NAHB.
In January, housing starts slowed but building permits soared to their highest level since 2006. Housing starts fell to a seasonally adjusted rate of 1.58 million last month – down 6% from December and 2.3% from January 2020. The drop was largely a result of a slowdown in single-family housing starts, which were 12% below their level in December. Multifamily housing starts, however, were up 16% month-over-month – driving a surge in building permits. In January, building permits jumped 10.4% month-over-month and 22.5% year-over-year, reaching a seasonally adjusted rate of 1.88 million. Overall, home builders are in a good position as they continue working to increase housing inventory and meet home buyer demand. "The big question is whether builders can navigate the opportunities of favorable demographics and mortgage rates against the challenges of rising materials, labor and land costs," said George Ratiu, senior economist at Realtor.com
Existing home sales increased by 0.6% in January, reaching a seasonally adjusted annual rate of 6.69 million. Up 23.7% from one year ago, January marked the second consecutive month of increases. "Home sales continue to ascend in the first month of the year, as buyers quickly snatched up virtually every new listing coming on the market," said Lawrence Yun, chief economist of the National Association of REALTORS® (NAR). Though most of the economy has suffered from the coronavirus pandemic, housing remains a bright spot. "Home sales are continuing to play a part in propping up the economy," Yun said. "With additional stimulus likely to pass and several vaccines now available, the housing outlook looks solid for this year."
Though mortgage rates may start to go up in 2021, as more coronavirus vaccines are distributed and more Americans return to work, home buying will likely remain strong over the coming months. Mortgage rates are still relatively low, so don't wait until they rise to join the millions of home buyers who have saved thousands of dollars over the life of their loans by purchasing now. Contact us or click 'Apply Now' to get started.
Sources: Census.gov, CNBC, MarketWatch, MarketWatch, Mortgage News Daily, NAR