Market Recap: Existing Home Sales Drop, New Home Sales Decline, Mortgage Applications Mixed
Blog posted On March 26, 2021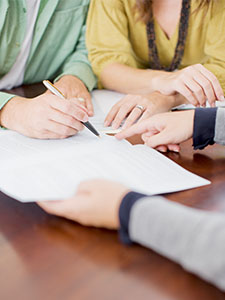 Mortgage rates trended downward this week, hitting some of the lowest levels in the past 10 days, according to Mortgage News Daily. Encouraged by calmer conditions in the bond market, rates finally started to fall after three weeks of consistently rising. It's unclear whether this is a broader reversal of rates or just a false start, but it's an optimistic drop, nonetheless. "Eventually, one of these friendly bounces will have staying power," wrote Mortgage News contributors in a daily report. In housing news, both existing and new home sales dropped in February. Mortgage refinance application submissions fell while purchase submissions increased.
Existing home sales slipped 6.6% in February, down to a seasonally adjusted annual rate of 6.22 million. The drop followed two months of consecutive gains, and possibly resulted from the inclement winter weather faced by most of the country mid-February. The regions with the largest month-over-month drops in existing sales last month were the Midwest (down 14.4%) and the Northeast (down 11.5%) – both hard hit by February winter storms. Another factor contributing to the drop could include the record-low housing inventory – down nearly 30% year-over-year. However, compared to February 2020, existing home sales are still up by 9.1%. "Despite the drop in home sales for February – which I would attribute to historically-low inventory – the market is still outperforming pre-pandemic levels," said Lawrence Yun, chief economist for the National Association of REALTORS® (NAR).
New home sales declined in February as well, falling 18.2% month-over-month to a seasonally adjusted annual rate of 775,000. The drop in new sales, like existing sales, was largely due to the winter storm. The Midwest – a region that struggled with the uncharacteristic weather – suffered a 37.5% drop in new sales. Year-over-year, however new sales remained high – up 8.2%. "New homes remain attractive for many buyers, especially those ready to trade up to larger floor plans, designated home offices, and newer technology and appliances," said George Ratiu, senior economist at Realtor.com. "With the number of willing buyers still running ahead of available homes for sale, the spring season is expected to bring additional energy to the new home market."
Mortgage application submissions dropped a composite 2.5% for the week ending 3/19. The drop was largely cause by the 5% drop on the refinance index. The purchase index, however, increased by 3%. This is the fourth consecutive week of increases for purchase application submissions, bringing their total up 26% year-over-year. Joel Kan, Mortgage Banker Association (MBA) associate vice president of economic an industry forecast, commented, "purchase applications were strong over the week, driven both by households seeking more living space and younger households looking to enter homeownership."
Though new and existing sales were down from their January levels, housing activity is still surging compared to last year. Homes sold at one of the fastest paces last month – 20 days on average. Buyer competition is decreasing the amount of time that homes are on the market. If you're interested in buying now, there are several different ways that we can help you prepare to make a winning offer, like getting prequalified and applying for preapproval. You can get started right away by clicking the "Get Started" button above, or by contacting us for more information.
Sources: MarketWatch, MarketWatch, MarketWatch, Mortgage News Daily, MBA, Mortgage News Daily, NAR