Market Recap: Existing Home Sales Decline, Home Prices Increase, New Home Sales Drop
Blog posted On December 25, 2020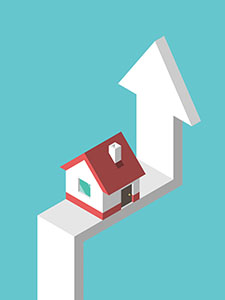 Mortgage rates remained relatively unchanged this week and continue to trend near historic lows. In other housing news, existing home sales declined for the first time in five months. Home prices increased, according to the Federal Housing Finance Agency (FHFA) house price index. New home sales fell in November.
Existing home sales dropped by 2.5% in November, marking the first decline in existing sales since June. Though existing sales dropped to a seasonally adjusted annualized rate of 6.69 million last month, they are still up 25.8% year-over-year. Lawrence Yun, chief economist for the National Association of REALTORS®, said that there is "no alarm or anything worrisome about the latest monthly decline."
In October, home prices rose for the fifth consecutive month according to the FHFA home price index. Month-over-month, home prices rose 1.5%, but year-over-year they rose 10.2%. "The 12-month gain of 10.2 percent in October is the highest annual appreciation observed since the 2004-2005 period. Extremely low mortgage rates and a limited supply of homes for sale continue to propel price gains," said Dr. Lynn Fisher, deputy director of the division of research and statistics at the FHFA.
In November, new home sales fell by 11% month-over-month. Though economists at MarketWatch had predicted new sales to fall to a seasonally adjusted annualized rate of 875,000, they fell to a seasonally adjusted annualized rate of 841,000. However, new sales are still up 20.8% from November 2019. Additionally, home inventory rose 14%, which is good news for home buyers looking to find a more affordable purchase.
Low mortgage rates are fueling home sales across the country. And with the next stimulus package, the vaccine distribution, and the continued high demand for homes, economists predict that the market growth will only increase in 2021. To learn more about your potential rates or to get started on your mortgage application, contact us today!
Sources: Advisor Perspectives, CNBC, MarketWatch, MarketWatch, Mortgage News Daily