Market Forecast: Construction Spending, Mortgage Applications, and ADP Employment
Blog posted On March 01, 2021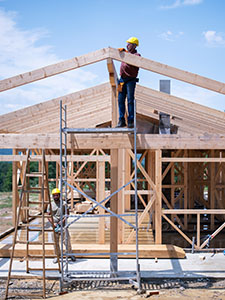 Mortgage rates saw a slight upward trend last week but are still relatively low. The report on construction spending will be released today, and the weekly mortgage application survey will be released on Wednesday. Also scheduled for release this week, is the ADP employment report.
The U.S. construction spending report tracks total spending on private and public construction projects. In December, construction spending grew at a seasonally adjusted rate of $1.49 trillion. The 1% increase marked the highest level of construction spending since the Commerce Department started the report nearly 20 years ago. A large cause of the increase was the outlays for residential construction projects – up 3.1% from November. Comparatively, spending on non-residential projects fell 1.7% in December, while public construction increased 0.5%.
The Mortgage Bankers Association (MBA) weekly mortgage application survey tracks week to week changes in the submission of new purchase and refinance mortgage applications. For the week ending 2/19, mortgage application submissions saw a composite decrease of 11.4%. The refinance index decreased 11% and the purchase index fell 12%. Year-over-year, mortgage application submissions for refinances are still up 50% and purchase application submissions are up 7% as well.
The ADP employment report is based on data from approximately 400,000 US businesses employing approximately 23 million employees nationwide. In January, ADP employment reported a 174,000 increase in private sector jobs. By company size, small businesses added 51,000 jobs in January, while medium and large businesses added 84,000 and 39,000 jobs, respectively.
Mortgage rates will likely stay relatively low throughout the Spring, but as we can see, they won't stay low forever. When mortgage rates rise, the amount of money you are paying toward interest will rise as well – if you choose to wait to buy. By purchasing or refinancing for a lower rate now, you could save thousands of dollars on interest over the life of your loan.
Sources: MarketWatch, MarketWatch, MBA, Mortgage News Daily, PR Newswire