Market Forecast: Case Shiller Home Price Index, Pending Home Sales, New Home Sales Index
Blog posted On October 26, 2020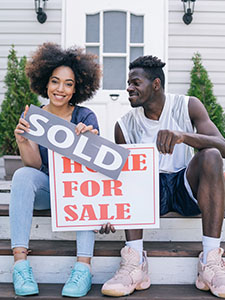 Last week, mortgage rates remained relatively unchanged, but are still in the historically low range. This week, there are several important housing reports scheduled for release. The new homes sales index is scheduled for release later today. The S&P CoreLogic Case-Shiller Home Price Index is scheduled for release on Tuesday, and the pending home sales index will be released Thursday.
The new home sales report tracks the sales of newly constructed homes and accounts for about 10% of total residential real estate transactions. In August, new home sales increased 4.8% month-over-month, reaching a seasonally adjusted annual rate of just over 1 million sales for the first time in 14 years. This was a 43% increase from last August's rate of 706,000 homes.
The Case-Shiller home price index tracks changes in the value of homes involved in two or more sales transactions across twenty major metropolitan areas throughout the country. Though the data lags by a month, it is still used to gauge home price appreciation trends. In July, the seasonally adjusted index showed a 0.6% increase in home prices. Year-over-year, home prices appreciated 3.9%. Phoenix saw the highest increase in home prices, up 9.2% from last year. Followed by Seattle, up 7%, then Charlotte, NC, up 6% year-over-year.
The pending home sales index tracks changes in the number of homes that are under contract but not yet closed. The pending home sales index rose for the fourth month in a row in August, hitting a record high 8.8% increase. Year-over-year, the pending home sales index rose 24%.
Housing experts predict that this will be an especially busy fall for the housing market. The coronavirus pandemic has caused a late-in-the-year demand for homes, and historically low mortgage rates are drawing more and more buyers to the market. If you'd like to take advantage of the recent record low interest rates, let us know and we'd be happy to help.
Sources: MarketWatch, MarketWatch, MarketWatch, MarketWatch, Mortgage News Daily