Many Seniors Prefer Multigenerational Housing
Blog posted On October 16, 2019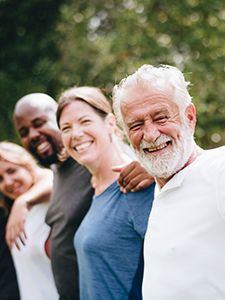 Multiple generations living in the same home is growing more common. In 1980, only 12% of Americans lived in a home that included adults from two or more generations. In 2018, that figure had risen to 20%. Living in a multigenerational household can help seniors stay active, healthy, and involved. Multigenerational housing is becoming so common, that it's not just family members living together. Developers are designing co-living spaces to house multiple generations and meet this preference.
In Tempe, AZ, the Mirabella at Arizona State University was designed to house senior citizens alongside college students and give them access to many of the facilities available on college campuses. The development is located on university land and is operated by ASU and a retirement community manager. Currently, 90% of the units are already sold and other colleges and universities are mirroring this example.
Seniors living in multigenerational housing are experiencing a better quality of life and in some cases living longer. Living near cultural centers like colleges and universities, give seniors a chance to find activities and connection within their community. Proximity to healthcare facilities makes it easier to find medical care especially, for ongoing issues.
Bloomberg estimates there are approximately 31,000 assisted living communities, 2,000 continuing-care communities, 2,000 active adult communities, and 2,000 independent living communities. With a shift in senior living preferences, home builders may be shifting away from dedicated senior living communities and more toward mixed-use housing communities.
More seniors are living at home with their own families too. If you're preparing to combine households with a senior in your family, you may need to make some changes to your home. Whether you need to add a bathroom to a lower level, or create a separate entrance or mother-in-law suite, you may be looking at costly home renovations. Rather than paying for a home renovation through a credit card or savings, you can withdraw home equity through a cash-out refinance to reinvest in your home. With historically low interest rates, you may even be able to get a lower interest rate on your new home loan.
If you have any questions about financing a renovation on your home to accommodate a senior relative, please let me know and we can find the best way to pay for it.
Sources: Bloomberg