Jumbo Loans 101: What They Are and When You Need One
Blog posted On January 21, 2021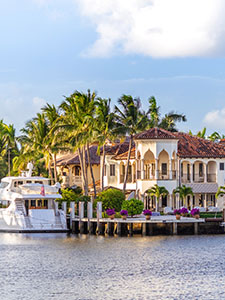 Last month, the Federal Housing Finance Agency (FHFA) announced that it would be raising the Fannie Mae and Freddie Mac conforming loan limits, marking the fifth straight year of loan limit increases. Still, in certain markets, homes are more expensive than the current conforming loan limits. If you're looking in one of these markets, you'll likely need to consider a jumbo loan option.
What is a Jumbo Loan?
A jumbo loan is a mortgage that exceeds the Fannie Mae and Freddie Mac conforming loan limits. With a larger loan limit than conventional mortgages, jumbo loans allow you to finance more expensive properties. Qualifying properties include primary residences, second homes, and investment properties, though qualifying factors vary per lender. Limits on jumbo loans vary as well.
What makes a Jumbo Loan different?
Other than those main factors, jumbo loans aren't much different than conforming loans. They are available in fixed-rate or adjustable-rate, 15-year and 30-year terms and have the same payment schedules as conventional loans. However, mortgage rates on jumbo loans differ from conventional mortgage rates and could fluctuate higher or lower.
When will I need a Jumbo Loan?
The FHFA limit for loan amounts increased by 7.5% from 2020 to 2021. The loan limit for a one-unit property in most states is $548,250. In high-cost areas and Alaska and Hawaii, the loan limit for a one-unit property is $822,375. The more units a property has, the higher the loan limit. If the property you plan to purchase exceeds the loan limit in your area, then you will likely need a jumbo loan. To see the loan limit in your area, please check here.
What are the benefits of a Jumbo Loan?
The main benefit of a jumbo loan is that you can borrow more money than the limits imposed by Fannie Mae and Freddie Mac. A jumbo loan can also be a useful tool if you wish to finance more of the home's cost and use less of your savings or cash.
How do I qualify for a Jumbo Loan?
Typically, qualifying for a jumbo loan will require a higher income, a higher credit score, and more reserve funds. However, we offer customizable products for a variety of flexible credit options. Borrowers who fall short of any requirements normally have to have a lower debt-to-income ratio as well, but you should always check with us if you have any specific questions. If you plan to take out a jumbo loan, be prepared to prove that you have enough reserves to cover at least 6 months of mortgage payments. Some jumbo loan programs even require a minimum of 12 months of reserves.
Home prices are not one-size fits all, and as home prices increase, jumbo loans can be a great way to accomplish your homeownership dreams. If you would like to learn more about your jumbo loan options, let us know!
Sources: Bankrate