Janet Yellen Announced as Biden's Treasury Nominee
Blog posted On December 08, 2020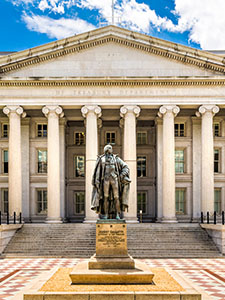 Last week, President-Elect Joe Biden and his transition team announced the appointments and nominees for several economic posts in his incoming administration. Among the nominees was former Federal Reserve Chair, Janet Yellen, who is Biden's choice for Secretary of the Treasury. If she is confirmed by the Senate, Yellen will be the first woman to lead the Treasury Department – similarly to when she was the first woman to lead the Federal Reserve from 2014 to 2018.
As Federal Reserve Chair, Yellen worked to help the economy recover from the financial crisis of 2008. During her time as chairwoman, she oversaw a program that was designed to stimulate the economy by selling US Treasury and mortgage bonds purchased by the Fed. Her experience with a recovering market could help her if she is confirmed as Secretary of the Treasury because she will once again be tasked with stimulating the economy in wake of the coronavirus pandemic.
Yellen's first-hand experience with the financial crisis has likely prepared her to take precautions to avoid the same occurrence from happening again by mitigating economic hardships caused by the coronavirus outbreak. "Yellen, if confirmed as Treasury secretary, will be part of a chorus of […] voices in Washington singing in favor of more economic stimulus and pro-housing market regulation and legislation," said Bankrate senior economic analyst Mark Hamrick.
During a congressional hearing in July, Yellen vocalized her support for more financial help from the government, saying that, "spending is absolutely needed for more pain not to be extended throughout the economy and for unemployment to continue moving down." Though passing a stimulus bill will require a consensus, Yellen will have the collaboration of her former colleague and current Chair of the Federal Reserve, Jerome Powell, who also supports the idea of stimulus money to help the economy.
According to other real estate experts, a Yellen nomination could help housing stability. "So much of any real estate market hinges on consumer confidence and a view toward the future, and controversial cabinet appointments and nominations (unlike this one) are typically destabilizing forces for a calm sail ahead," said Steven Gottlieb of Warburb Realty. "Thus, this should be an added stabilizing force, and good for markets, including real estate markets."
Historically, Yellen has been labeled as 'dovish' in the economic industry – meaning she favors using low interest rates to help stimulate job growth. She moves "slowly yet deliberately" when it comes to moving interest rates. This could mean that interest rates will stay historically low if she is confirmed. From a conference in Chicago in 2014, Yellen stated that "our goal is to help Main Street, not Wall Street. By keeping interest rates low, we are trying to make homes more affordable and revive the housing market. We are trying to make it cheaper for businesses to build, expand, and hire."
Though confirmation is required for Yellen's appointment, Senate pushback is not expected. Her confirmation will likely occur before Biden's inauguration on January 20th, 2021.
Sources: CNBC, HousingWire, MarketWatch, Motley Fool