How to Win Bidding Wars This Winter
Blog posted On December 22, 2020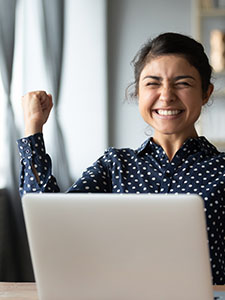 Home buyer competition has stayed hot this fall. In October, 56.8% of all Redfin offers were involved in bidding wars – marking the sixth month in a row that over half of the offers faced competition. Compared to October 2019, bidding wars have increased by 460%, and if you're looking at buying a house this winter, you likely won't be the only one. Luckily, there are several ways you can prepare to win a bidding war – including this one simple strategy.
Including an escalation clause in your offer can be a way to stand out to sellers and beat out competing offers. An escalation clause is an addendum that will automatically increase your offering price by a predetermined increment, should a competing bid come in. This way, you will likely have the highest bid out of all the offers – unless the other offers go beyond your maximum price. "When potential buyers really want to own a property, and they put an escalation clause in their contract, they want to outbid the other competitors for it up to a certain point," said Tye Stockton of the Stockton Group of LIV Sotheby's International Realty.
Strong escalation clauses have three main components: your original offer price before competing bids, your raised offer price if a competing bid comes in, and your maximum offer price you are willing to bid.
Your original offer
Your original bid is the price you initially offer to pay assuming that no other buyers will submit a competing bid. Typically, this offer will be the same as the asking price of the seller. For example, if a homeowner lists a property at $300,000, then your original offer would likely be $300,000.
Your raised offer
In an escalation clause, you will include the increments by which you want your offer to increase – such as $2,000, $5,000, or $10,000 – should a competing offer come in. The increment can be as large or small as you would like, but remember, your goal is to make your offer stand out from the others. Stockton reminds buyers, "you want to make it meaningful because if someone outbids you, is it really worth offering a dollar more?" For example, imagine that your original bid is $300,000 and your escalation clause will increase your offer by $4,000 above the competing price. If an offer of $305,000 comes in, then your escalation clause would kick in at $309,000. Increasing your bid to $305,001 wouldn't add much to your offer.
Your maximum bid
Your escalation clause will only allow your offer to increase up to a certain limit, which you decide ahead of time. If your maximum limit is $315,000, then your offer will not increase beyond that price. So, if your opposing bid raises their offer to $311,000, your $4,000 escalation clause increase will raise your bid to $315,000 and stop there. If your competition does not increase their bid, then you have the top offer. If they continue to increase their bid, you will no longer raise your offer, and they will have the higher offering price.
Nearly 20% of all offers made by a Redfin REALTOR® include escalation clauses just to be safe. When it comes to your dream home, it's better to be safe than sorry. Other ways you can strengthen your offer include mortgage preapproval – to get started, apply on our website.
Sources: Money.com, Redfin, Redfin