How Many Homeowners Would Benefit from a Rate Refinance?
Blog posted On April 11, 2019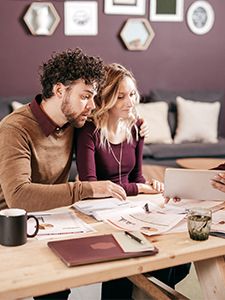 Mortgage rates are trending downward, following the Federal Open Market Committee's (FOMC) decision to pause raising rates this year. As rates fall, more and more homeowners could benefit from a mortgage refinance. According to a recent report from Black Knight, 4.9 million American homeowners could reduce their mortgage rate by at least 0.75% if they refinance now, a 1.6 million week-over-week increase.
Homeowners may choose to refinance for a number of reasons. Some of the most common are to reduce the mortgage interest rate, change loan programs, remove mortgage insurance, or withdraw home equity. There is no limit to the number of times a homeowner can refinance their mortgage loan, it depends on what makes financial sense for the specific situation. Keep in mind, a mortgage refinance is a new loan origination, and with that will come closing costs. Before you refinance your mortgage, be prepared to cover these costs.
If you are looking to change loan programs, you may need to wait until your financial profile improves before you qualify for another program. For example, if you bought your home as a first-time home buyer using a government-insured or other low down payment option, you may need to spend a few years paying down debt and improving your credit before you qualify for a new program. If you financed your home with an adjustable-rate mortgage (ARM) because of the lower introductory rate or because you had originally planned to move after a few years, you may be ready to refinance into a fixed-rate mortgage instead. If you financed with an FHA loan and are looking to remove the Mortgage Insurance Premium (MIP), the only way you can do that is by refinancing into a different mortgage loan program. Homeowners may change loan programs several times while living in the same home. Your first step is to consult with me, I'm the mortgage expert so you don't have to be. I can compare your current program to other loan programs for which you may qualify and determine the best course of action for you.
With a cash-out refinance, most financial professionals recommend you have at least 20% equity built up in your home as a cushion. A cash-out refinance works by originating a new mortgage that includes the value of the current mortgage plus the value of the cash you withdraw. Homeowners may use a cash-out refinance to pay down other debt, cover an unexpected medical cost, invest elsewhere, send the kids to college, and most commonly fund a home improvement or renovation project. Before you move forward with a cash-out refinance you should discuss your goals with me, so we can determine if your home's equity is the best way to pay for the expense.
A simple way to look at a mortgage refinance is it's not how long you stay in your home; it's how long you stay in your loan. There are many types of mortgage loan programs available because there are so many different ways to use your mortgage to serve your financial needs. A home is the largest investment most Americans will make and choosing a mortgage that helps you achieve your long-term financial goals will set you up to build wealth and save for your future.
Sources: HousingWire