How Lockdown Has Helped Americans Save For Second Homes
Blog posted On January 12, 2021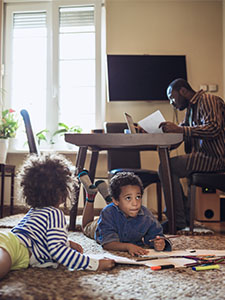 After ten months of TV, takeout, and talking through a phone screen, it's safe to say that cabin fever is taking a toll. But as the weather cools down and COVID cases rise, freedom from home seems further than ever. Having a home away from home, however, seems like a newly attainable dream. With record low mortgage rates, remote working, and other saving opportunities related to COVID-19, purchasing a second home has become a more achievable goal for many Americans.
Home sales last October rose 24% year-over-year – with sales on second homes driving the surge. Doubling their level from last year, sales on second homes outpaced primary home sales by 50%. "With mortgage rates at all-time lows and offices shut down across the country, the dream of having a second home outside of the city is becoming a reality for many wealthy Americans," said Taylor Marr, lead economist at Redfin.
The option for remote work has helped Americans save a total of $91 billion in commuting costs. These savings are equivalent to around $2,000 per person. Coupled with stimulus checks, student loan deferrals, and city lockdowns, Americans have been able to save thousands of dollars – money that they can then put toward a down payment on a home. With cities being shut down in an effort to prevent the spread of the virus, people have been cutting down costs on entertainment, dining out, and other social expenses.
According to the Bureau of Economic Analysis, the average American is currently saving 14% of their take-home pay. Though this percentage may seem low, it is nearly double the average savings rate from 2019.
In addition to savings opportunities, record-low mortgage rates have driven many home buyers into the market. Purchasing a home while rates are low can help you save thousands of dollars in interest over the life of your loan. And with the Federal Reserve voting to leave the benchmark rate near zero last month, rates will likely continue to remain low for this year.
Purchasing a second home is more than a vacation getaway – it's an investment in your future. With the current rates and savings possibilities, you could buy a home now and later sell it or rent it for profit in the future – or even make that home your primary residence.
If you would like to learn more about purchasing a second home, please feel free to reach out and we would be happy to talk or help you get started. In the meantime, happy saving!
Sources: Business Insider, MarketWatch, Money.com, Redfin