Home Sellers Are Cutting Prices at a Record High Rate
Blog posted On October 25, 2022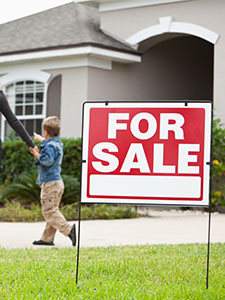 Relief is well on its way for home buyers struggling with rising mortgage rates. Earlier today, the Case-Shiller home price index showed that in August, home prices cooled at the fastest pace in history. On top of that, more than one in five sellers reduced their sales price in September. Both are strong signs of a shift in the market – a shift in favor of buyers.
Home prices cooling nationwide
Over the past two years, home prices climbed at a quick clip. July marked the first sign of relief as prices began declining month-over-month on the 20-city index. August's monthly decline tripled the pace of July, causing the annual price appreciation to drop by over 2.5% -- the largest deceleration in the index's history.
Sellers making more price cuts and concessions
A record 22% of houses for sale saw a price cut in September, according to recent data from Redfin. For comparison, just 6% to 7% of sellers were making price cuts in 2021 and early 2022. "[Record price cuts are just] one illustration of just how much soaring mortgage rates are impacting the housing market," notes Sarah Hansen, personal finance writer for Money. Additional impacts include more seller concessions, builder-paid buydowns or closing costs, and lender incentives. A few months ago, Redfin real estate agent Andrew Vallejo noted, "about 80% of the seller contracts I have right now, [sellers] are paying for at least $5,000 to $10,000 in closing costs for the buyers, because the buyers requested that to lower their interest rates." Another option buyers can utilize is to ask for a mortgage payment buydown.
A win/win for buyers
While the market may not seem ideal, it certainly holds promise for home buyers. As long as mortgage rates continue to climb, it's very likely that home prices will continue to fall, offering some boost to buyer affordability. Right now, the Federal Reserve remains committed to reeling in red-hot inflation. The past three meetings, they have raised the benchmark interest rate by 0.75% and will continue to hold an aggressive stance until inflation shows signs of tapering. Redfin Economics Research Lead Chen Zhao predicts that mortgage rates won't start falling until mid 2023, roughly. In the meantime, buyers can look forward to dropping home prices, increased incentives, and more.
No matter what's going on in the market, buyers are sure to find a win. It might just take exploring other mortgage options that are less dependent on rates or taking advantage of seller incentives. Let us know if you want to take advantage of what this market has to offer.
Sources: Money, S&P Global