Home Equity Hits Record High – Why Aren't Homeowners Using it?
Blog posted On April 30, 2019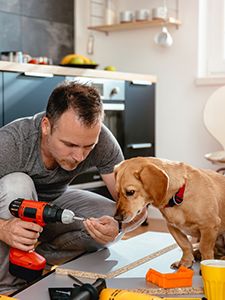 Home equity increases over time as the homeowners makes payments toward their mortgage balance and their home appreciates. As home values continue to rise, tappable home equity has increased substantially. In the fourth quarter of 2018, Black Knight reported that American homeowners had a collective $5.7 trillion in tappable equity. In fact, CoreLogic data showed from 2017 to 2018, the average homeowner gained almost $10,000 in home equity.
Most real estate professionals recommend building up a cushion of 20% of equity in your home before withdrawing any equity. However, even with equity steadily rising, American homeowners are hesitant to use it. Black Knight found that only 1% of available home equity was tapped in the fourth quarter of 2018, the lowest share since 2012. What's stopping Americans from accessing their valuable home equity?
Older Homeowners
CoreLogic Chief Economist Frank Nothaft commented, "if you look at the age distribution of homeowners in the United States, the biggest cohort are Baby Boomers, and the median age of a Baby Boomer homeowner is about 60 years of age." Older homeowners may be either approaching retirement or already retired, and hesitant to take on additional debt. However, using home equity for a home improvement or remodeling project could increase the value of the home or make it easier to age in place.
Rising Rates
To normalize interest rates following economic recovery, the Federal Reserve has steadily raised interest rates over the past few years. Even as rates have increased from the rock bottom lows they hit after the Recession; they are still historically low. Plus, the Federal Open Market Committee (FOMC) announced they would be pausing on raising rates this year, until global economic conditions become favorable for future rate hikes. While the Federal benchmark interest rate does influence mortgage rates, your specific mortgage rate will depend on your overall financial picture. If you bought your home as a first-time home buyer with a high debt-to-income and little credit history, your mortgage rate would reflect this. Over time, as you lower your debt-to-income ratio and establish a positive credit history, your mortgage rate would reflect these improved financial conditions. Switching from a longer-term loan like a 30-year fixed-rate loan to a shorter term loan like a 15-year fixed-rate loan will also result in a lower mortgage interest rate.
Financial Crisis
When some Americans hear the term "home equity," it may bring them back to the housing crash and Financial Crisis. During the early 2000s, many homeowners were using home equity irresponsibly, and lending standards were not as strict as they are today. Nothaft added, "we're in an environment where we have a lot of young Millennials who saw what happened with the housing crash, the foreclosure crisis, the great recession, and for many of them, maybe those memories are very fresh." When used responsibly, however, home equity can help homeowners reinvest in their home or pay down higher-interest debt.
With rates not likely to move much this year, refinance and cash-out refinance activity may pick up this year. Home values are up, home equity is rising, and many homeowners could benefit from using their home equity responsibly. If you have any questions about how to use your home's equity, please let me know.
Sources: HousingWire