Can you afford to buy a home?
Blog posted On July 11, 2019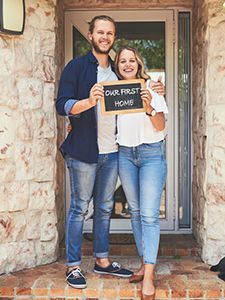 When it comes to buying a home, the first question most home buyers ask is "can I afford to buy a home?" There are numerous factors that influence whether or not you can afford to buy a home. Home prices may be rising rapidly in one area but may be level just a half-hour drive away. One loan program may mean high monthly payments, but another could be closer to your budget. If you find yourself answering "no" to the question of whether or not you can afford to buy a home, consider these solutions below.
If you think your monthly mortgage payment is going to be too high, remember the payment is comprised of PITI or principal, interest, and taxes and in some cases mortgage insurance, homeowner's insurance, homeowner's association fees, or condo fees. Lowering the monthly mortgage payment could be as simple as adjusting the PITI equation. Some options are: choosing a suburb over a city home to reduce the property taxes; buying a home that is not a part of homeowner's association to drop the HOA fee; or putting down a larger down payment either through savings, grant, or assistance to reduce or eliminate mortgage insurance. Your location is crucial and your proximity to work and school will impact your commute, but make sure to check out nearby neighborhoods and even adjacent cities, depending on your region. Compare cost differences. A home just over a certain county line could dramatically reduce the cost of property taxes and put you in a better position to buy.
Next, consider whether or not your affordability constraints are temporary. Home affordability is highly conditional. If you expect an income increase following a period of school, family planning, or internship or residency, compare the cost of waiting. Is their market likely to experience home price appreciation? Are rates going to go up? Many lenders will work with buyers experiencing circumstances like these and find mortgage loans that fit their specific situations. For example, with a "buydown" loan the interest rate will increase over a set period of time allowing the buyer to ease into mortgage payments.
Many home buyers in today's market are choosing homes in need of repair or remodeling or "fixer-uppers" rather than waiting for the perfect home to become available. Before venturing into uncharted territory, ask yourself, "will I be able to live in the home while it is undergoing renovations?" It's hard to estimate the amount of work and how long it will take to complete with a fixer-upper and this timeline varies depending on the property and also the knowledge of the homeowner. Are you willing to invest the time to renovate a rehabilitation project? Do you have the budget to pay for a contractor? Are you ready for unexpected costs? A fixer-upper may be the right choice, but that's largely depend on the scope of the project.
When a house is out of their budget, some home buyers may consider buying a condo, building up equity, and then reentering the market later. The biggest drawback of condo living is the condo fee. The condominium complex owner can raise the condo fee based on the needs of the building and this fee does not directly benefit the homeowner. Buying a condo now could limit the amount of equity you would build up buying a home instead.
Finally, if you believe your interest rate is too high, should you improve your credit score in order to qualify for a better rate later? This situation depends on how much the credit score needs to improve and how quickly the home buyer can improve it. For example, if a 100-point higher credit score will drop the interest rate from 4.75% to 4.25%, you need to determine how long that will take to achieve and whether or not the cost of waiting is worth it. If you have the assets to pay down debt or can work with a credit counseling agency to quickly improve the score, it may be worth improving the score. If it will take six months to a year to improve the score, you cannot predict what rates will do and then runs the risk of the cost of waiting.
Buying a home is the first step most Americans take toward building wealth, through valuable home equity. If you don't know whether or not you can afford to buy a home, talk with a loan officer. It's our job to find out the most affordable way for you to buy a home. Even if you don't think you can afford a home today, you may be surprised how soon you can!
Sources: Bankrate