Best Ways to Use Your Record-High Home Equity
Blog posted On September 22, 2022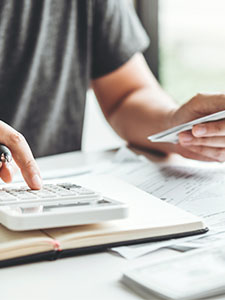 Homeowners are gaining record amounts of wealth. According to a recent report by CoreLogic, Home equity has soared nearly 28% over the past year alone. That's an average gain of $60,200 per homeowner. Now, the average homeowner now has $300,000 in home equity – an all-time high. What does this mean? How can you take advantage of the equity in your home?
Home equity is how much of the home that you own. It's the difference between the market value of your home and the amount of your mortgage that you still owe. If your home is worth $600,000 and you still owe $400,000 on your mortgage, then you have $200,000 in equity. Many homeowners will never use their home's equity, but for some it can be extremely beneficial.
"Rising equity is a big deal for many families," writes Money contributor, Sarah Hansen. "It means better opportunities to buy a new home, since their original home may sell for significantly more than the original purchase price. It also means more flexibility when it comes to credit, and can give families options if they need access to cash for large expenses."
If you're wondering how to use your home equity to build wealth, there are several options.
Consolidate debt
With a cash-out refinance, you can take some of your home's equity and use that cash to fund other investments. One great way to use your equity is to consolidate high interest debt like credit cards, student loans, and auto loans. Even in the current housing market, mortgage rates tend to be much lower than interest rates on these types of debt.
Finance renovations
Love your home's location but need more room? Tired of using the kitchen as a home office? Ready to finish your basement? Your home's equity is a great resource to tap into that can then be used to finance a home addition, renovations, or any initial costs for a Renovation Loan. With additional upgrades or renovations, you can also boost your home's value (giving you more equity back in your pocket).
Purchase an investment property
Rent prices have been soaring recently. Many homeowners are converting their homes into investment properties or Additional Dwelling Units (ADUs) to reap the benefits. Not only do ADUs add space to convert into an AirBnb, but they also add value to your property.
Switch to a HELOC
A HELOC, or home equity line of credit, is an alternative to cash-out refinances. Unlike cash-out refinances, HELOCs are a revolving line of credit that you can access as you need over time. As home equity has increased, HELOCs have soared in popularity, with HELOC origination up 41% year over year. Another benefit of HELOCs compared to cash-out refinances is that you only pay interest on the amount of equity that you use – not the entire line of credit.
Don't just let your equity go to waste. You worked hard to build your equity, and now it's time to put your equity to work for you. Let us know if you want to explore your options or if your curious about how much equity you've earned.