Benefits of Financing Your Home with a Jumbo Loan
Blog posted On April 21, 2022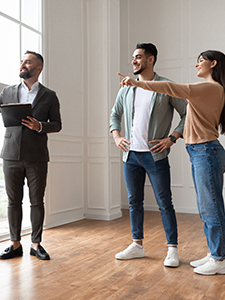 A Jumbo Loan is a mortgage that exceeds the Fannie Mae and Freddie Mac conforming loan limits. With a larger loan limit than conventional mortgages, jumbo loans allow you to finance more expensive properties. But there are several other benefits that may be lesser known.
Good Option for Investment Properties
Investment properties come in various shapes and sizes. Some investors might purchase a condo in the heart of a big city, some might get a lakeside estate, while others might buy a multi-family home. Whatever the investment may be, it's possible that it will have a higher purchase price. With a Jumbo Loan, you can purchase the property with one, consolidated mortgage rather than two smaller conforming loans. We offer several Jumbo options that come with competitive rates and flexible underwriting requirements.
Quick Closings and Competitive Pricing
We also offer several Automated Underwriting System (AUS) Jumbo Loans – which oftentimes close quicker than manually underwritten loans. As long as the data is inputted correctly, AUS loans can issue approvals that are immediate and definitive. These loans are also not subject to fee increases for second homes and high balance loans, making them a more affordable option for second home buyers.
Extensive Loan Options
We offer a suite of Jumbo Loan products and are always adding innovative jumbo solutions to our mortgage menu. Many of our jumbo loans have lower down payment requirements and other eligibility requirements including credit score. To view more of our Jumbo products and requirements, check out our Jumbo Loan product page.
You apply for a Jumbo Loan just as you would apply for any other loan. To get started, you will want to gather the following:
Proof of income and employment (pay stubs, tax returns, W-2 statements etc.)

Documentation of financial assets (bank statements, etc.)

Residential history (previous two years' worth)

Your credit history

Identity information like your driver's license, Social Security card, and date of birth in order to apply
To get started, click the "Get Started" button above