Asian American Home Buying Accelerates Post-Pandemic
Blog posted On May 10, 2022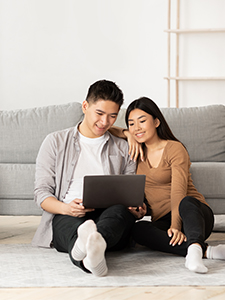 May marks the beginning of Asian American and Pacific Islander Heritage Month. In honor of the month, Realtor.com studied the trends in Asian American homeownership from March 2019 to December 2021. What the study found was that Asian American home buyers are the group that had the largest increase in the rate of homeownership in recent years.
Pre-pandemic and pandemic trends
Before the COVID pandemic, in 2019, the number of Asian American home buyers grew at a faster pace than non-Asian American buyers. The average Home Sales Index (HSI) for Asian American buyers between March 2019 and Feb 2020 was 118.3, which was a level 3.1% higher than non-Asian American buyers.
The initial COVID outbreak posed several challenges for many home buyers. After the initial COVID outbreak in March 2020, Asian American home purchases slowed significantly, dropping to a level of 109.5 on the HIS. This was a level 9.5% lower than their non-Asian American peers.
Asian Americans lead post-pandemic homeownership growth trends
However, from Q4 of 2020 to Q4 of 2021, the rate of homeownership among Asian Americans shot up 1.7%. All other racial groups saw declines during the same time period. "The average HSI for Asian buyers jumped to 154 between October 2020 and December 2021, 30.8% higher than their pre-pandemic levels and 19.6% faster than non-Asian peers," writes Jiayi Xu of Realtor.com.
Asian American women beat out men in home buying trends
Among Asian American home buyers, the women seem to be leading the way. Before the pandemic, the average HIS for female-identifying Asian American buyers was 120.3 – 3% higher than male-identifying buyers. Post-pandemic (from July 2020 to December 2021), Asian American females had an HSI 8% higher than Asian American males, on average. "This means that the growth rate in home purchases by Asian American females grew more than that for males and that the gap widened in the housing market's pandemic recovery," writes Xu.
Millennials are outpacing other generations among Asian American buyers
Before the COVID outbreak, most Asian American home buyer growth was trending closely between generations. After the pandemic outbreak, millennial buyers started to break ahead of other generations. As Xu states, "between August 2020 and December 2021, Asian American millennials sustained an average HSI of 159.1, compared to Gen X's index of 148.9, Boomers' index of 145.0, and Silent generation's index of 145.5. In other words, millennials grew homebuying activity by 59% over their pre-pandemic pace while other generations saw activity grow by only 45% to 49%, on average."
When compared to non-Asian American millennials, Asian American millennials are seeing faster home purchase growth. "After this early-pandemic stage, Asian American millennials started buying homes at a faster-growing rate than non-Asian American millennials, reaching a peak HSI of 196.5 in June 2021, as compared to the non-Asian American millennial peak of 175.5 in the same month," notes Xu.
Overall, home buying trends for Asian Americans are showing several positive signs. Happy Asian American and Pacific Islander Heritage Month!
Sources: Realtor.com