All Hands on Deck: 6 DIY Projects for You and Your Family Before Winter
Blog posted On October 15, 2020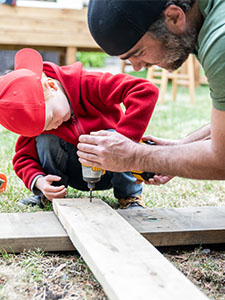 As we roll into the eighth month of the global pandemic, you may be wondering, how many more games of Monopoly can I play? From bike rides to hikes, movie nights to game nights — you've done everything in your power to keep the family entertained.
Instead of building up your property on Park Place and Boardwalk, here are six do-it-yourself projects that can add value to your real house, and keep the family busy!
Outside Projects
Mailbox Makeover
Start off simple with this fun activity that will surely bring a smile to your mail carrier's face. This task is a great way to turn your kids' virtual art class into a creative reality without much mess or hassle. All you'll need are some protective masks, painter's tape, aluminum primer, and spray paint or markers for metal surfaces. If your mailbox needs a little bit more TLC, you might use some sandpaper to help smooth out any rusty spots. You'll want to cover any address numbers with painter's tape before letting your kids go crazy on their metal canvas. Then, art class is in session!
Fire Pit Fun
Depending on where you live, a fire pit can and add as much as 2.8% to the value of your house. You might think you need a Class A contractor for a project like this, but in just seven steps you can be roasting s'mores under the stars. First, you'll need to look at the codes in your area to check the fire pit rules and regulations. Then, make a circle, dig up the grass, and tamp down the dirt (with the help of little jumping feet). Make sure the ground is level, then add the gravel (with your extra helping hands). Lastly, stack the bricks! Most likely, all your tools should be easily accessible in a tool shed. Except for the marshmallows.
Shed Shape-Up
For the yard warriors who need more of a challenge, you can find several tutorials and guides on how to build your own shed from the ground up. Home Depot estimates it only takes 2-4 hours to build your basic shed, depending on which supplies you already have. Once you're finished with the shed construction (or renovation), you can get your kids involved, by letting them help paint the sides. You could even let them draw their own special designs! Plus, homes with a "she-shed" can add 3.6% to the home's value, according to Zillow.
Indoor Projects
Faucet Facelift
Hand sanitizer went out of stock for a reason. Your kitchen faucet has probably gotten more action in the past six months than it has in the past six years. You touch your faucet handle after you played outside, before you wash your vegetables — but how often do wash your faucet handle? Many companies have started making hands-free faucets for good reason. Plus, the kitchen is one of the main selling points in a house, so the investment would be worthwhile. Remember: before starting this project, make sure the water valve is turned off. Kitchens with indoor pools might take away some home value.
Light Fixtures Fixer-Upper
Another simple way to spruce up your kitchen (or any other room) is by updating its light fixtures. Switching out old light fixtures with more modern styles can take any room from dark and dull to bright and full. Again, the supplies and steps are simple. You just need light bulbs, wire caps, a screwdriver, a ladder, a drop cloth, and of course the new fixture itself. Don't forget to turn the electricity off before you start. If you want to update your home lighting even more, you can install a light dimmer in place of a simple on/off switch. Light fixtures and switches have the same wiring, so once you've done one, the others will be a piece of cake!
Cabinet Cleanse
You don't need a $30,000 remodel to add a little kick to your kitchen. Just by throwing on a fresh new coat of cabinet paint, you can give your kitchen the lift it needs. Changing out the handles and drawer pulls is another simple yet effective way to update your kitchen. If you're feeling adventurous, you might try installing open shelving, which, believe or not, can be done from scratch. Open shelving can add up to 4.2% to a home's overall sales price and can give you some much-needed counter space for all those fun baking activities.
Winter is coming, and the colder it gets, the more time you'll be spending inside — watching even more movies and playing even more games. So, take a break from Telestrations, press 'pause' on "Toy Story 4," and get the family together for a new kind of fun!