Market Recap: Home Prices Appreciate, Fed Leaves Rates Unchanged, New Home Sales Increase
Blog posted On January 29, 2021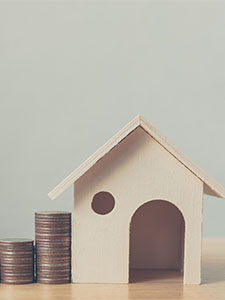 On Wednesday, the Federal Reserve voted to leave the benchmark interest rate near zero. As a result, mortgage rates trended downward, hovering near historic lows. In other housing news, home prices appreciated, and new home sales rose.
The S&P CoreLogic Case Shiller home price index showed a seasonally adjusted appreciation of 1.4% month-over-month in November. Year-over-year, the 20-city composite showed a 9.1% gain. The report once again did not have sufficient data from Detroit due to coronavirus concerns. Among the remaining 19 cities, Phoenix, Seattle, and San Diego had the highest year-over-year gains. In Phoenix, home prices appreciated 13.8%; in Seattle, home prices are up 12.7%, and in San Diego, home price rose 12.3%. "Recent data are consistent with the view that COVID has encouraged potential buyers to move from urban apartments to suburban homes," said Craig J. Lazzara, managing director and global head of index investment strategy at S&P Dow Jones Indices. "This may represent a true secular shift in housing demand, or may simply represent an acceleration of moves that would have taken place over the next several years anyway."
On Wednesday, Federal Reserve Chairman Jerome Powell announced that interest rates would remain unchanged, reaffirming the central bank's dedication to restoring the country's economic health. "The pace of the recovery in economic activity and employment has moderated in recent months, with weakness concentrated in the sectors most adversely affected by the pandemic," said Powell. Economists currently believe that the economy will remain weak in the coming months but should surge once winter ends and more Americans receive the coronavirus vaccination. In the meantime, Mike Feroli, chief U.S. economist at JP Morgan Chase, says, "low inflation is giving the FOMC plenty of room to stay accommodative."
In December, new home sales, or the sales of newly constructed homes, rose at a seasonally adjusted rate of 842,000, up 1.6% from the previous month. Year-over-year, new home sales are up 15.2%. The number of new home sales in December brings the 2020 total to an estimated 811,000, up 18.8% from the 2019 total. In a prediction for what's to come, Sal Guatieri, senior economist at BMO Capital Markets, says, "warm weather should help, as will the record-low supply of available resale homes that has pushed buyers (and remote workers) into the newly-built market."
With the benchmark interest rate remaining near zero, mortgage rates will likely remain low for the coming month. As home prices are appreciating, homeowners are gaining valuable equity. To take advantage of the current rates and start earning equity fast, get started on your mortgage prequalification on our website today.
Sources: MarketWatch, MarketWatch, MarketWatch, Mortgage News Daily, PR Newswire