HUD Announces That the FHA is Backing DACA Mortgages
Blog posted On February 02, 2021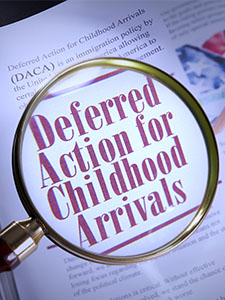 Last month, the U.S. Department of Housing and Urban Development (HUD) declared that the Federal Housing Administration (FHA) would begin backing mortgages for immigrants under the Deferred Action for Childhood Arrivals (DACA) program. This announcement marks the first time that DACA status recipients would be eligible for FHA loans, provided that they meet all other FHA requirements.
One of the main requirements is that the DACA recipients must be legally permitted to work in the U.S. Other factors required by HUD include a valid Social Security Number (unless the person works at the World Bank, a foreign embassy or equivalent employer identified by HUD), and evidence of legal employment by an Employment Authorization Document issued by the United States Citizenship and Immigration Services (USCIS). Furthermore, the DACA recipient must also meet all other terms and conditions that a U.S. citizen would be required to meet in order to qualify for an FHA Loan. The property that the FHA Loan would be financing would also need to be the home buyer's primary residence.
Prior to HUD's announcement, the FHA Single Family Housing Handbook stated that non-U.S. citizens without lawful residency would not be eligible for FHA-backed mortgages. This guideline was first incorporated into the FHA handbook in 2003, which became an issue when DACA was established in 2012 because the handbook did not address whether this regulation applied to DACA recipients. Then, in 2019, DACA recipients were officially banned from applying for FHA Loans.
"Determination of citizenship and immigration status is not the responsibility of HUD and the Department relies on other government agencies for this information," said Len Wolfson, the HUD assistant secretary for congressional and Intergovernmental relations at the time. "Accordingly, because DACA does not confer lawful status, DACA recipients remain ineligible for FHA loans."
It wasn't until last month, when Trump Administration enforced the new HUD regulations, that DACA recipients could officially apply for FHA loans. At the beginning of the year, the FHA also raised the loan limits for 2021. Now, the limit floor for single-family homes is $356,362. The limit ceiling increased to $822,375 – up $56,775 from last year. To view the loan limits in your area, visit the FHA website.
The FHA Loan is a one of the many low down payment options that we offer. Backed by the U.S. federal government, the FHA Loan is generally less restrictive than conventional loans – with easier qualifications and down payments as low as 3.5%. To qualify for the 3.5%* FHA Loan down payment, you must have a credit score of at least 580. If it's between 500 and 579, you will need at least a 10% down payment. If you've had a bankruptcy or foreclosure in recent years, you need to reestablish your credit to qualify for an FHA Loan.
With the lower mortgage rates, now is a great time to take advantage of the low down payments of the FHA Loan! To get started, apply now on our website. If you have any questions about FHA eligibility for DACA borrowers, let us know.
*FHA Payment example: If you choose a $250,000, 30 year loan at a fixed rate of 3.75% (3.94 APR) with a loan-to-value (LTV) of 96.5%, and a $173/month PMI, you would make 360 monthly payments of $1,315. Payment stated does not include taxes and insurance, which will result in a higher payment.
Sources: HousingWire