8 People You Want on Your Team When Buying a Home
Blog posted On November 26, 2020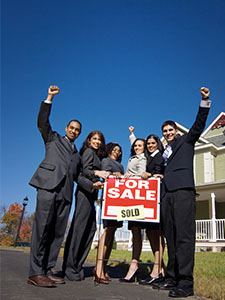 Buying a home will likely be one of the biggest investments of your life. It can feel like a daunting process to tackle alone, but with the help of an experienced team, you can reach your goal with less stress and hassle. As the coach of your real estate team, it's up to you to pick the best players possible. But before you do, make sure you know the positions you're looking for.
Real estate agent
Your real estate agent is the captain of your home buying team. They're the go-to for all of your questions, concerns, ideas, and guidance. In general, they're the ones that do the homework behind the scenes of the home buying process – the in-depth research, seller communication, and offer negotiations. Hiring an experienced agent is one of the first steps to building your dream home-buying team. Doing your research on agents is almost as important as doing your research on homes. When choosing your agent, look for someone you trust – maybe a friend of a friend or an agent you've worked with before. You also want to be sure that they're knowledgeable about real estate and experienced in the area where you are looking to buy.
Mortgage lender
Your mortgage lender is another important player on your team. Without a lender, you likely won't have the financial means to buy a home. It's recommended that you start searching for a lender before you submit an offer on a home. Though an online mortgage calculator is a great tool to use when estimating your potential mortgage payment, a mortgage lender will let you know exactly how much you can afford through preapproval. Having a mortgage preapproval is a big help when making an offer on a home because it shows sellers that you are serious about buying the home and able to buy the home.
Financial advisor
If you're the coach of your home buying team, your financial advisor is your assistant coach. Though you are the one who ultimately makes all the decisions, your financial advisor can help you strategize and plan. Your loan officer can help you determine how large a mortgage you can afford, but your financial advisor can help assess your financial situation overall. By looking at your finances, your advisor will help you determine when you should purchase your home and how you should budget accordingly.
Home inspector
Though some home buyers opt to waive contingencies, especially in a busy market, home inspections are a very important step that should not be overlooked. A home inspector can prevent you from making an offer on a house that may require costly repairs down the road or that has any health hazards. They're your home-buying team trainer – ensuring your safety both financially and physically. Common issues that a home inspector searches for include radon, mold, lead paint, asbestos, water damage, or any structural problems with the home.
Home appraiser
A home appraisal is normally conducted after you have made an offer that has been accepted by the owner and after the home as been inspected. When issuing a mortgage, a lender will require an appraiser to provide professional assessment of the home's market value. Typically, the appraiser will evaluate the home's size, condition, and key features to determine its value. Hiring a credible appraiser is important to help calculate an accurate value of the home.
Title officer
To ensure the legality of the title transfer, the title officer will examine public records and make sure that there are no outstanding payments due on the house. Then, they will issue a title insurance policy which protects both buyer and lender from any possible title issues. At closing, your title officer will ensure that the new title and deed are completed and recorded correctly.
Real estate lawyer
While some states require that a real estate lawyer is present at closing, others do not. Regardless of whether they are required or not, real estate attorneys can be a good idea to help mitigate risk, navigate documents, or resolve any disputes. When it comes to an investment as costly as a home, it's always better to be prepared.
Home insurance company
Your home insurance company is the goalkeeper of your home buying team. Once you've scored your goal and purchased a house, you want to make sure that you maintain your lead. In order to protect your home from theft, fire, or any other natural disasters, you will need to purchase home insurance. The most common home insurance policies include four different types of protection: structural coverage, personal belongings coverage, liability protection, and additional living expenses (ALE) coverage. However, the types of protection you need will depend on the location where you live.
Building your team will determine the trajectory of your home buying process. While you are ultimately the coach, and you're in charge, it is important that you have trusted professionals to help guide you through the process. With the right people by your side, you could save thousands of dollars on your dream home. To get started on your mortgage prequalification, contact us today. Put us in, coach – we're ready to play!
Sources: Redfin