7 Features That Could Boost Your Home's Value
Blog posted On April 13, 2022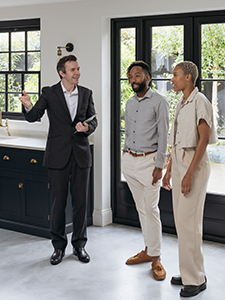 Not all of a home's value is based on a curb appeal. In fact, some unusual features could actually attract more buyers and boost your sales price. In a study for Angi, formerly Angie's List, researchers identified common features that people have in their homes that come with a nice price premium.
Cooktop pot filler
A faucet that is directly over the cooktop is one feature that leads the way in price premiums – adding 3.2% value.
Pendant lighting
Pendant lighting follows the cooktop pot filler with a 2.66% price premium.
Under cabinet lighting
Under cabinet lighting in the kitchen is becoming increasingly more common, and it adds a nice 2.48% price premium.
Double-sink vanity
Also known as a 'his and hers sink,' a double-sink vanity in your master bathroom has a 2.35% premium.
Barn door
Not just for the outdoors, a barn door is a modern style that efficiently saves space – sliding to open instead of swinging on hinges. With the addition of a barn door, you could add a 2.32% price premium to your home.
Quartz countertops
A modern granite, quartz countertops are a very popular choice in many homes and can add a price premium of around 2.26%.
Oversized windows
While conventional six-pane windows have been traditional for a while, larger windows are starting to become more popular in modern homes. The more natural light, the better.
Typically, investing in some renovations before you sell your home is a good way to boost your sales price. One option for financing is a cash out refinance. If you'd like to learn more about our cash out refinance options, let us know or check out our free, online, cash-out refinance guide.
Sources: Realtor.com