6 Tips to Help You Reach the Closing Table Faster
Blog posted On January 19, 2022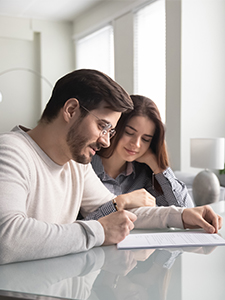 Mortgage lending has come a long way in recent years. You no longer need a 20% down payment and perfect credit score to secure a loan. There are several mortgage options with low down payment requirements and lenient credit score qualifications.
What you do need for a smooth closing is honesty, cooperation, and trust. There are many steps in the mortgage process, but the most important factor in each is providing your lender all the information we need.
Step 1: Preapproval
Getting preapproved will require you to submit documents such as your proof of income, proof of assets, credit history, and employment verification. You also will likely have to talk to your lender directly (via phone, virtual meeting, or in person). During this meeting, we'll likely ask various questions about the information you submitted. It's important to answer these questions honestly – providing exact amounts, and every detail.
Remember: This isn't a job interview. Don't trying to impress by overestimating. This will only make the process more difficult down the road.
Step 2: Application
The more information you provide in your application, the better. This allows us to find the best fit for your mortgage. During this step we will discuss your loan options and interest rates based on the information you provide.
Remember: The more accurate your information is, and the more honest you are, the more smoothly your closing will go.
Step 3: Processing & Underwriting
Every loan will have a processor and an underwriter. Processors will gather the information you've provided, and underwriters will evaluate your loan file as a whole. Underwriters may approve your loan with conditions, and they also might need more information from you in order to give your loan a final approval.
Remember: Your cooperation is crucial to a quick close. Providing any and all additional documentation we need as fast as you can will help you and your mortgage team.
Step 5: Approval
Once you submit all your additional documentation and all conditions are met (like home inspections, appraisals etc.), your underwriter will complete a final review of your loan. If you've given us everything we need, and your loan meets federal regulations & lender standards, then your underwriter will issue a clear to close.
Remember: Trust your lending team. We're experienced and we want to help you reach closing as quickly as possible. The best way you can help us is by giving us everything we ask for. If we ask for a bank statement including blank pages, give us the blank pages too!
Step 6: Closing!
Congratulations! During this step we will review your closing disclosure, submit your down payment, and sign final loan documents.
Remember: There are a few more items you need to bring to closing including a valid ID, proof of insurance, and cashier's check for your down payment.
The hardest part of getting a mortgage isn't having a perfect credit score. It's having all of your documentation together and submitting everything we need. The purpose of all of the documentation is to not only to protect your lender, but to protect you and your finances.
We know it can be a hassle to do, but the more prepared you are, the easier it will be. See the attached checklist for a basic version of what you will need. The earlier you start preparing your documents, the better!