6 Signs You've Found the Perfect Home
Blog posted On April 18, 2019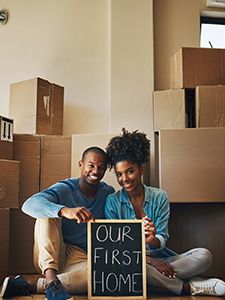 Are you looking for a home in today's busy market? Buying a home can be an emotional experience, and it's easy to get swept up making such a big decision. Whether you're in the middle of your home search or just starting, look for these seven signs you've found the perfect home.
It has your "Must Haves"
Before you start your home search, real estate professionals recommend you make a list of "Must Haves" and "Would be Nice." Prioritizing what you need to have and what you'd like to have will make it easier for your real estate agent to narrow down your home search. If you are lucky enough to find a home that has most or even some of your "Must Haves," consider making an offer. You might not find something like that again!
Within your price range
Mortgage preapproval should be your first step, before you even start looking at listings. Getting preapproved for mortgage financing gives you an idea of how much home you can afford, and how much you will need to put down as your down payment. Going over your budget for a specific feature might not seem like a big deal at first, until you're struggling to make the mortgage payments. When you've found the perfect home and it's within your price range, that makes everything easier, especially when it comes to negotiating your offer.
Right location
It sounds obvious, but location is the one thing you can't change about your new home. You may choose a location based on your commute to work, proximity to services like the grocery store and public transportation, property taxes, school district, or numerous other influencers. Limiting your home search within a certain area will help you narrow down your choices.
The right number of bedrooms
Whether you are downsizing or looking for room to grow, the size of your home matters. Two bedrooms may be perfect for you and your spouse as you approach retirement and just need one extra guest bedroom. If you're starting a family, three or four bedrooms might be better suited for your future children and other needs that may arise like the need for a home office.
Fits your vision
Whether the home is move-in ready or a fixer-upper, it has to fit your vision. Small details are easier to change, like wall color and flooring. However, upgrading fixtures or replacing cabinets may be a bigger undertaking. Before you start looking for a home, set your renovation budget and determine what you'd need to change for the home to fit your vision.
Potential for appreciation
Buying a home under budget may save you money now, but you have to look at the long-term potential. Is the home priced lower because of problems in the neighborhood? Is the builder struggling to sell homes, so they've lowered their prices? Consider the home's potential to appreciate in value, before you make an offer. Whether you plan to sell after a few years or live there long-term, home value appreciation will impact how much equity you build in your home.
Buying a home is an exciting experience, and when you find the right home, sometimes you just know! If you have any questions about your home search or home financing, please let me know.
Sources: US News and World Report