5 Things to Look for When Touring a Home
Blog posted On May 18, 2022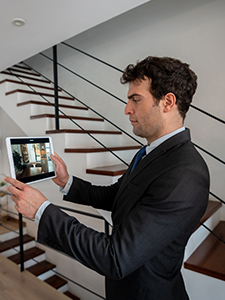 Real estate is continuing to move fast, and often this means that you must move faster on a home that you are interested in than you would in a slower moving market. You must often decide if you will be putting an offer on a home within hours of touring it. It is essential to make your first tour count and know what key things to look for.
Below are five things to look for when touring a home:
Location, Location, Location

– On your way to the home, pay close attention to things on the way that may make the neighborhood less or more appealing. Notice how the neighbors take care of their home, loud noises, traffic, and proximity to highways if you drive into an office.

Wall and floor condition

– Pay attention to warped flooring, cracks in the walls, and any watermarks. Any of these noticeable issues can indicate water damage and foundation issues, leading to expensive repairs down the road.

Home layout and room sizes

– It may look easy to knock down several walls to create a bigger space, but it is not as easy as it seems, and it can get expensive. Ensure that the home has the number of rooms and the layout that works best for you and your family.

Odors

– Notice any musty smells throughout the house. Odors can be a strong indication of the presence of mold and mildew in the home, which could be hazardous to your health if it does not get taken care of. Other odors to look out for are cigarette and pet smells. If there have been pets or smokers living in the home for a long time, the odors are more challenging to remove due to them being stuck in the walls and carpet and will take a lot of effort to eliminate.

Air conditioners

– This is something that the inspector will examine in greater detail, but if the unit is on while you are touring, you can be on the lookout for noises that may indicate an issue. Also, it would be good to reach out to the listing agent to get an idea of the age, and the last time it was serviced. Lastly, notice now many units are present. Generally, if the home is two stories, it is more efficient to have two units to help balance out the temperature.
With the pace of the current market, it is easy to feel pressured to decide quickly if you want to put an offer on a home, but it is essential to pay attention to things that could be costly later. Your home is one of the most significant investments you will make, so you want to make sure you are making the best financial decision for yourself and your family.
Reach out today to start the pre-approval process so you can begin touring homes!