4 Ways to Reduce Your Biggest Expense During Retirement
Blog posted On August 29, 2019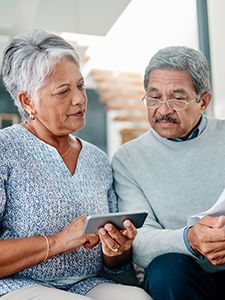 Whether it's your mortgage payment or your monthly rent, housing is most retirees' biggest recurring expense. According to the Bureau of Labor Statistics, the average household headed by an adult 65 or older spends nearly 34% of their income on housing and housing-related expenses like insurance, property taxes, maintenance needs, and utilities. For many, retiring means a fixed income and the prospect of monthly housing costs may seem daunting, especially added onto other needs like medical expenses and travel. Financial contributors at the Motley Fool compiled this list of four ways to reduce your biggest expense during retirement.
Pay Off Your Mortgage Entirely
Just reading that statement might trigger thoughts like "easier said than done!" But don't write this off as an impossibility just yet. Paying off your mortgage may be a more achievable goal than you think. If you can afford a larger monthly payment, switching from 30-year terms to 15-year terms could significantly expedite loan payoff. The way you pay your mortgage matters too. The bulk of your monthly mortgage payment goes toward monthly mortgage interest, especially with a new mortgage loan. Other loans, like our proprietary All In One Loan™, apply loan payments to mortgage principal first, reducing the lifetime cost of mortgage interest, and allowing borrowers to pay off their mortgage faster. Reducing the terms of your loan or eliminating your monthly mortgage payment entirely before retirement allows you to allocate income toward other needs, and if needed, withdraw cash from your home through a cash-out refinance.
Downsize
A larger home doesn't only come with a higher mortgage payment. It also comes with more upkeep and higher maintenance costs. Downsizing to a townhome, condominium, or even smaller detached single-family home can lower your housing costs. A condo will come with a condo fee and a townhome may come with a similar homeowner's association fee, but that fee could offset the cost of replacing and maintaining your own lawn equipment or paying for a landscaper to keep up your home's exterior. Plus, many condo and townhome communities have other amenities like pools and gyms that you will have access to instead of needing to pay outside memberships.
Relocate to a More Affordable Area
If moving is an option, consider relocating to a more affordable area. Some states are more tax-friendly than others, and simply crossing county lines could lower your annual tax bill. Moving closer to adult children or other family members can also reduce your travel costs and save you money in that area. Whether you move to an entirely new area or just to a smaller home, factor in the cost of the move and the new mortgage origination. Moving before you retire can help you cover those costs, when your income is more flexible.
Rental Options
There are a number of ways you can make money through renting out your home. If you're still living there and your home has a separate mother-in-law suite or other rentable rooms, you can earn rental income through a long-term or short-term tenant (think Airbnb and VRBO). If you're moving to either downsize or relocate to a more affordable area, but do not wish to sell your home, you can rent it to a tenant. When renting out your former home you can either act as the landlord yourself or hire a property management company. If you're comfortable with performing landlord duties, you can save money by not hiring a property manager. However, if you're moving far away or just want to enjoy your retirement and not be an on-call landlord, a property manager may be worth the cost.
You want to enjoy your retirement and be able to comfortably afford healthcare costs, travel needs, and other expenses that come up. Reducing or eliminating housing costs is one way to free up your income. If you are newly retired or approaching retirement, let me know and we can evaluate how the right mortgage can help you achieve your goals.
Sources: The Motley Fool