4 Tips for Selling in a Competitive Market
Blog posted On June 16, 2021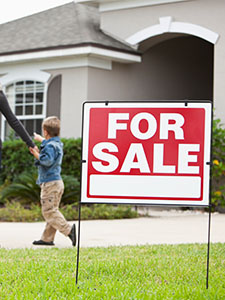 Selling your house in a competitive market might sound like a breeze. You list your home, get several offers right away, and close on a contract offering you thousands of dollars above your listing price. Unfortunately, the sales process might not be as straightforward as you think and there are a few other factors to consider.
Don't take the market for granted
Even though home buyer demand might be high, this doesn't mean you can list your home for whatever price you want. If you price it too high, you could risk losing buyer interest. If you price it too low, you could risk missing out on potential profits. Once you list your home at the right price, you'll likely have multiple interested buyers putting in offers. While this is a good sign, it can also make it more difficult to choose the right offer. One of the best ways to get step-by-step guidance throughout the home selling process is by working with a REALTOR®. A REALTOR® will be able to help you prepare your home for the market, list it at the right prices, and choose the best offer. They also are available to answer any other questions you might have about selling your home.
Be realistic about your home's worth
Most homeowners have a personal connection to their house. This could make you reluctant to make any changes to your home and slightly biased about its market value. For example, if your home has the same wallpaper or wood paneling it did when you moved in during the 70s, then you might consider revamping to a more modern style. However, making any changes can be emotionally difficult when you've built so many memories in one place. This is why it could be helpful to have a real estate agent provide their objective opinion on places where you could make renovations in your home. Jared Goodloe, a REALTOR® with Compass in Brooklyn, suggests to "remove the emotion as quickly as possible. If you're in the resale process, the renovations that you did to your home 10 years ago don't reflect the current market, especially when you have nothing but new development going around you." Once you've made renovations or upgrades, you could list it at a much higher price than before. One option is to use a renovation loan, which can help you with larger home upgrades like a kitchen remodel.
Be honest and thorough about your disclosures
You might be worried that if you tell buyers everything about your house, then they'll walk away. While this is always a possibility, it could be much better than the alternative. If you fail to disclose everything to your buyers and they choose to purchase your home, it could result in a costly lawsuit once they find out what you were withholding. When thinking about what to tell your buyers, always remember that it's better to be safe than sorry. From a previously flooded crawlspace to rowdy neighbors, it's better to let potential buyers have all of the information rather than keeping anything from them in hopes of a better sale. Plus, in a busy market, buyers are much less picky than they are when there are more options for sale – benefitting you and any disclosures you're worried about. "I think that [sellers] don't understand that even if they tell something negative, the buyer will accept almost anything if you tell them," said Mary Pope-Handy, REALTOR® in Silicon Valley. "So I would say, take your disclosure obligations very carefully, because it's the right thing to do — and because it will net you more money."
Know where you're going to move
Selling in a competitive market is great, but if you're looking to relocate locally, it could be more difficult. If you're selling your primary residence to move to a second home full-time, then you'll probably have smooth sailing. But if you're looking for a home while you're selling, it could take a little bit longer. Many homeowners who are relocating need the profits from their sale to help finance their next down payment. To sellers, this could make your offer less appealing. Any contingencies can hinder an offer in a competitive market. "So what sellers are doing is they're selling without having their new home identified, and then they're trying to compete in the marketplace that they just sold in," said Sean Waeiss, a broker and the owner of Wise Property Group. Before you sell, make sure you at least know the general state and town you want to move to, and the price range of the homes you're interested in. Then, you can work with your lender on a plan and start on your preapproval as soon as possible. You should also try connecting with a REALTOR® in the area you're moving to so that they can help you buy and maybe walk you through tours via video calls.
If you're interested in selling your home or relocating, let us know. As a direct lender, we specialize in reliable preapprovals and fast closings – helping you make a stronger offer and secure a new home before you sell your current one.
Sources: Business Insider