4 Questions to Ask Before You Buy a Second Home
Blog posted On October 05, 2022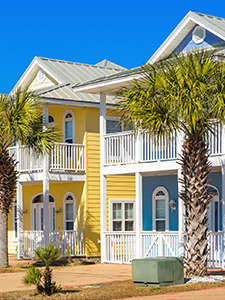 An oceanside paradise, a lakefront escape, acres of space and endless skies – they all sound like a dream. But owning a second home is a big financial commitment. It's easy to imagine all the ideal possibilities of a second home. It can be more difficult to go through the financial details.
Ask yourself these four questions while making your decision.
Why do you want a second home? What goals are you hoping to achieve from purchasing another property? Some common goals include:
A transition home for fully remote work

A retirement destination

Or making it a rental property for extra income
Do you have the time to manage the property? Self-manage or hire a management company? There's a lot that goes into managing a property that you don't live in full-time. You will want to check it every once in a while to make sure it's not in need of any repairs like leaks, pests, etc. If you decide to rent it out (and your lender approves), you'll have to do your own marketing, set up the listing on travel sites, keep up with guests' requests, and make sure that they can check in and out. It would be smart to look into property management companies that will do all this work for you.
How much will the property cost to maintain? You will be responsible for the mortgage and utilities, even in the off seasons when there is not much rental traffic. Also, if you do end up needing to make any repairs, this will cost money. How much should you budget for home maintenance? A good rule of thumb is to budget 1%-4% of your home's value for annual home maintenance costs.
Are there any tax implications? Second-home taxes can be very confusing – especially if it's a rental. You have to monitor how much you will be using it personally vs. how often you plan on having it rented out. However, there are also second home tax benefits like claiming tax deductions for mortgage interest, property taxes, and rental expenses.
However, there might be second home tax benefits like tax deductions for mortgage interest, property taxes, and rental expenses. Please consult a tax expert about your particular situation. . They will be able to guide you about the IRS rules along with the tax benefits.
Are you in the market for a second home? Reach out to us today to talk about your options and how you can use your current home to help purchase your dream vacation home.