4 Ways to Save Money When Building a Home
Blog posted On February 04, 2021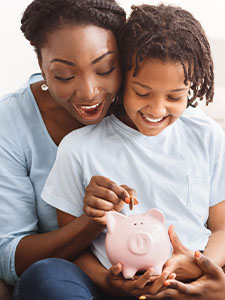 Finding the perfect existing home can be hard when housing inventory is tight. Building a new house is a way your dream home can still become a reality. Unlike the upfront cost of buying a home, the cost of building is fluid. Though you will often know the rough estimate beforehand, the total cost can change as the project progresses. In order to help keep costs under control, here are four ways to plan your dream home's construction.
Get multiple quotes
Picking the right builder, architect, and designer can help bring your dream home to fruition and help you save money. Some builders can charge much higher rates than others. However, when making the final decision, be sure that you are considering cost and quality. "There are a large number of loose ends [when building a home]. That's where having a quality builder with a good reputation could be much more valuable than the cost itself," says Bruce Bochicchio, REALTOR® in Atlanta. Sometimes, builders or designers who offer cheaper rates produce cheaper results – cutting corners or taking shortcuts – though this is not the case for everyone who offers lower rates. Ask around and see if anyone has good recommendations or has used a good builder, designer, or architect in the past.
Evaluate home site and style
Though you probably already have an idea of the area where you want to build your home, the location of construction can make a big difference in the cost of building. For example, consider the costs of building on both developed and undeveloped land. If you're considering buying a piece of undeveloped land where you want to build a home, you might get more acreage, but you also might have to pay for utility and water lines. However, if you build on a piece of land that is developed – with water, sewer, gas, and electric lines – you might pay more upfront, but won't have to worry about installing them later.
The floorplan and design of your home can be another big make-or-break for your building costs. Sometimes an open floor plan with more space and fewer walls might be more expensive than you think. "Because there are fewer walls, the span is longer, so the beam that holds that floor and ceiling up is much more expensive," Bochicchio says.
Take on DIY projects
Certain parts of the home building process can be accomplished on your own – avoiding the extra expenses of contractors or designers. If you have an idea of the style of interior features you are looking for, you could make the selections yourself. Some people even enjoy taking on this project – adding personal touches to the home by choosing features like countertops, fixtures, and flooring. On the other hand, a designer could help you make selections that could boost your home's resale value down the road. Other projects you could potentially take on yourself include landscaping, painting, or other interior design jobs.
Avoid low return expenses
When designing or landscaping your home, you could opt to forgo the more expensive options because certain features will only last a few years before they will need to be replaced. "You could get cheap carpet for now because it might only last for four or five years anyway," says Bochicchio. "So long as you have your drainage well-engineered and under control, you could add cosmetic landscaping later." Other quickly changing features include home décor – don't spend too much money on the current trends because they're likely to change soon. Instead, consider investing in aspects of your home that can raise its value and are unlikely to lose value in the future. Building a basement, for example, is a good way to increase value, or investing in better roofing or siding rather than flooring and lighting. Just make sure that features you choose to live without won't put your final home inspection at risk.
Building a custom home can sound costly – but it doesn't have to break the bank. With simple choices here and there, you can save thousands of dollars on the cost of your home and increase its resale value down the road. With limited home inventory due to high home buyer demand, building a house is a great way to move into your dream home sooner. If you would like to explore your home building loan options like our construction loans or renovation loans, let us know.
Sources: Bankrate